Over the past decade, the Federal Reserve has kept interest rates low, maintaining a zero percent Policy Rate from the financial crisis of 2008 to 2015. As 2015 drew to a close, the Fed finally decided the environment was turning positive and increased its key interest rate — the Federal Funds Target Rate — by 25 basis points. Two more 25 basis point increases followed, in December 2016 and in March 2017.
Its decision to keep rates so low for so long surprised many investors, partly due to speculation of more frequent rate hikes in 2015 and 2016 that never came to fruition. Now the Fed is talking again about hiking rates two more times in 2017, and investors may naturally question whether these raises will indeed happen. We think they mean it this time.
We anticipate the Fed will raise rates two more times this year, which should drive short-term yields higher as well. On the other hand, we expect longer-term rates — which are not as tied to Fed target rate increases — to stay more subdued due to mixed economic data. To understand why we think the Fed is poised to take further actions this year, it's helpful to understand its history and role in our financial system.
The Fed's expanding role
The Fed was created in 1913 in response to a series of financial panics, including the 1907 Bankers' Panic in which the New York Stock Exchange tumbled nearly 50 percent. The need had clearly emerged for a centralized bank to oversee and control the U.S. monetary system.
As time passed, other major financial events, including the Great Depression of the 1930s and the Great Recession of 2009, convinced the government to expand the Fed's roles and responsibilities. Many people are familiar with the Fed's two main "mandates" of maximizing employment and maintaining stable prices. However, they may be less familiar with its third mandate of moderating long-term interest rates. And since 2009, the Fed has been charged with these additional responsibilities:
Supervising and regulating banks
Maintaining the stability of the financial system
Providing various financial services to depository institutions, the U.S. government and foreign official institutions
The Fed includes a president-appointed board of governors (the "Fed Board"), a partially president-appointed Federal Open Market Committee (FOMC), 12 regional Federal Reserve banks, several privately owned U.S. member banks and various advisory councils. This structure is considered highly unique in the world of central banks due to its combination of public and private institutions, and more importantly, the independence the Fed has to make decisions without approval from any branch of government, including the president. It should also be noted that the Fed actually makes money — to the tune of over $100 billion in 2015. Its charter requires it to transfer all profits (beyond withholding a small account surplus) to the U.S. Treasury.
Looking ahead at Fed moves
The FOMC is in charge of setting the Fed's target rate, which is technically the rate that banks charge each other for overnight loans. Banks use this rate to set all other short-term rates, but it can also have ripple effects on foreign exchange rates, longer-term interest rates and the amount of money and credit in the economy.
Since coming off its zero interest-rate policy in late 2015, the Fed has slowly raised rates despite projections that it would do so more aggressively. Today, the market is anticipating two additional rate hikes in 2017 and ending the year with a target rate in the 1.25-1.50 percent range. Another two to three increases are in the outlook for 2018.
So here's why we think the Fed will indeed raise rates this year and next: Even with four or five more increases over the next 18 months, the target rate is likely to stay well below its long-term average of 5.13 percent. Moreover, increases to the target rate often lag behind the movements of certain key economic indicators, such as GDP and the consumer-price index—which both have been climbing (see chart below).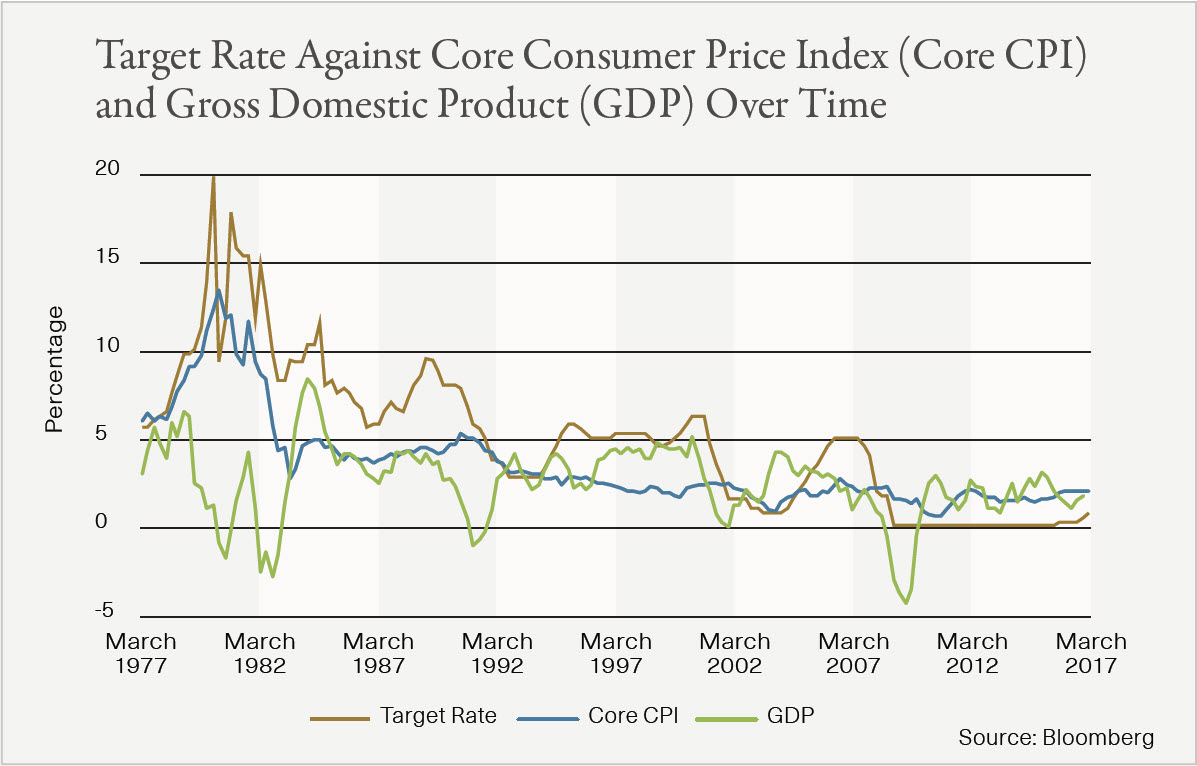 The Fed generally prefers to keep the target rate at a slight premium above inflation, which has been more than 2 percent over the past year. The Fed's most recent communication said it's targeting a premium over inflation of 1 percentage point.
The impact on investors
Despite the Fed raising rates slowly since late 2015, fixed-income yields have only modestly increased for short-term maturities and have even declined for longer-term maturities (see chart below). This has resulted in a flattening yield curve where the difference between short- and long-term rates has compressed.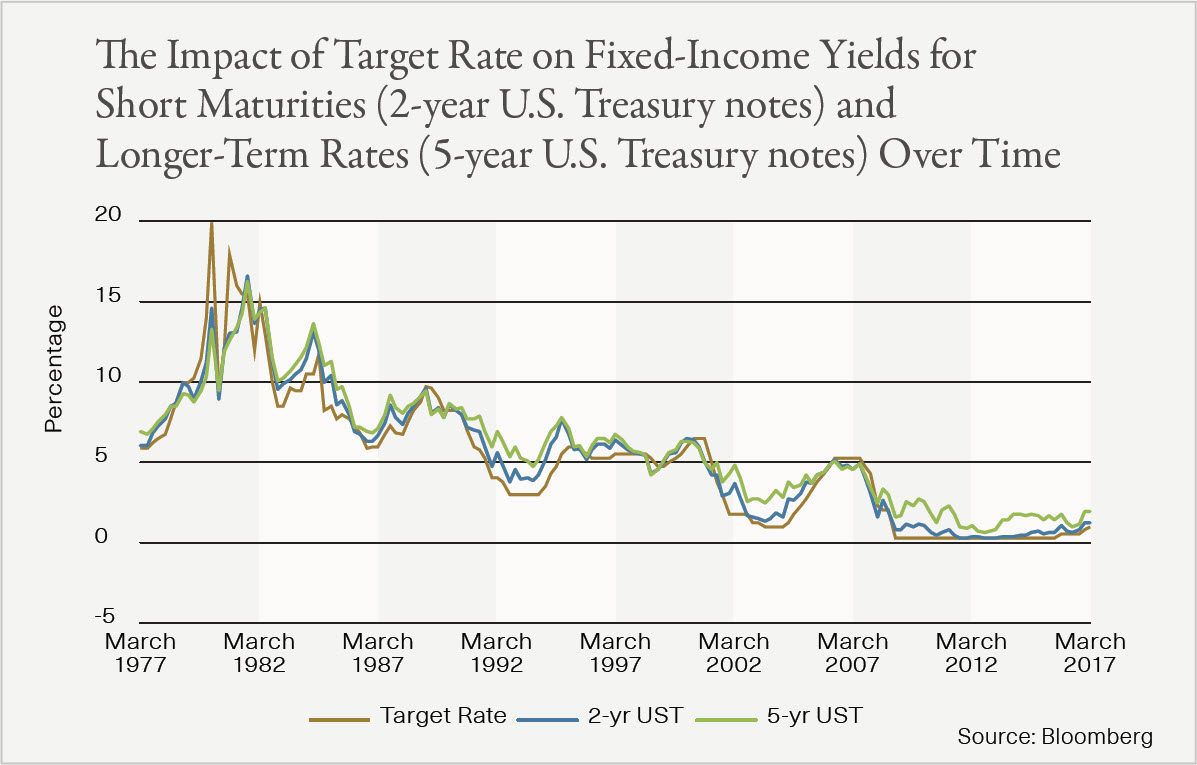 Given we anticipate two additional Fed target rate hikes in 2017, we expect short-term rates will rise as well. However, our outlook does not call for a rapid rise in long-term rates, as low material inflation, strong global demand for U.S. fixed-income assets, the to date lack of federal fiscal stimulus and traditional portfolio rebalancing will help keep long-term rates within a fairly stable range.
With this backdrop, we encourage investors to remain well diversified and not let the Fed's moves overly influence their fixed-income allocation. A strategic allocation to fixed income can continue to provide investors with principal preservation, a predictable and often tax-advantaged income stream and a counterweight to the more risky asset classes.