Tips for Fundraising in a Virtual World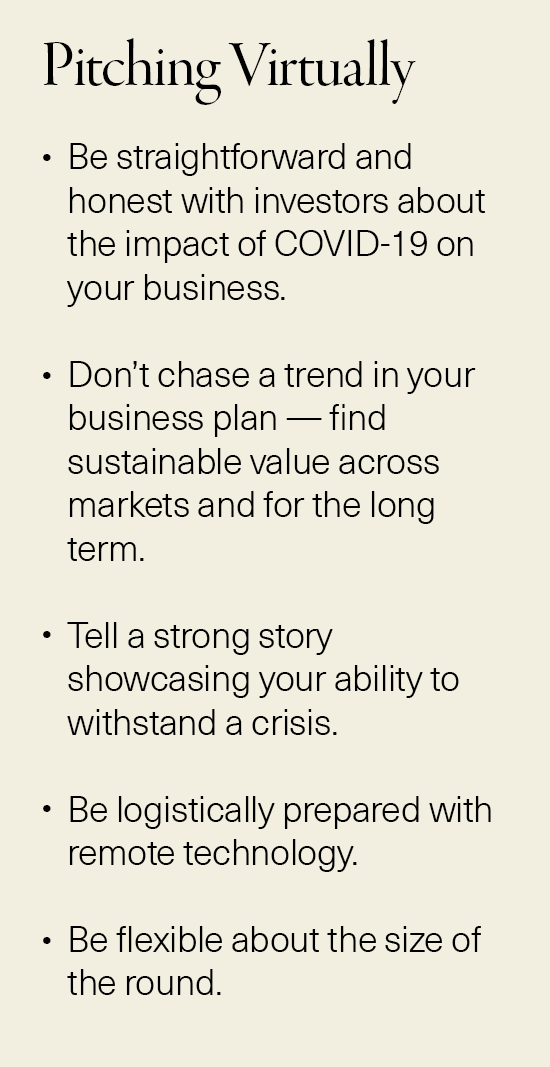 COVID-19 has forced changes in many business practices, seemingly overnight. But what about the connection between startup founders and fundraising networks? In deals in which millions of dollars change hands — often struck after just a couple of face-to-face meetings — many of the old rules still apply, but the pandemic has changed how deals are getting done in the emerging socially distanced, video call culture.
Entrepreneurs shouldn't try to sugarcoat the impact the pandemic has likely had on their companies and business outlooks. In fact, being straightforward with investors is key to earning and maintaining their trust. Similarly, while the sudden and potentially lasting change in the business environment may be cause for a strategy shift, company leaders should resist the temptation to chase short-term trends.
Now for some good news: Money is still flowing into new deals, albeit at a slower rate. "My advice to entrepreneurs is to be a little more patient than usual," says John Murphy, Co-Founder of Hyperplane Venture Capital in Boston. "Everyone is adapting to a new environment, including investors, and it generally takes longer to build that rapport when you're doing so virtually."
Though new venture capital deals have slowed as VCs look to shore up their portfolio companies and protect their current portfolios, there are still uncommitted dollars from funds raised in the previous year. "There is a lot of fresh capital out there," says Murphy.
Indeed, venture capital funds based in the United States raised $46.3 billion in 2019, making it the second-best result in the past decade, according to PitchBook and the National Venture Capital Association, a leading source of fund performance data.
Revisit Your Existing Connections
The rules of engagement are constantly changing for venture capitalists — especially now. Whereas six months ago, when the pipeline was bursting with new deals awash in money, VCs may have turned aside potential deals because, for example, there may have been better opportunities for growth elsewhere.
But that was then, and just as the world has changed dramatically in the past few months, many VCs have shifted their priorities. For example, they may be emphasizing more defensive sectors or favoring companies whose business models provide long-term sustainable value across markets, even if it means a little less upside.
Venture groups seem to be "playing things a little bit more cautiously," says Seth Proctor, CEO of Tranquil Data, an early-stage venture-backed software company. "I think that they are, by and large, trying to feel out what really is happening in the industry right now and how to course-correct."
Proctor suggests that entrepreneurs connect with friends and colleagues who have existing relationships with potential fundraising sources. VCs often look to their portfolio companies for recommendations for new investments, he says.
Tap Into Virtual Networking
In-person networking will be slow to come back. That said, the same groups that previously held pub chats or sponsored talks have moved to virtual versions through Zoom, Google Meet and other videoconferencing apps.
"I think one of the encouraging things we've seen is that many groups that have built these community events have done a really great job of showcasing entrepreneurs online — whether it's through Zoom or YouTube or different platforms," notes Proctor.
Entrepreneurs interested in raising capital and staying in the know should by all means stay connected through these channels as well as one-on-one communication, whether it's through LinkedIn, emails or phone calls.
Make Flexibility Work in Your Favor
The initial shock of closing down many aspects of the economy left both investors and startup founders scrambling to make sense of the near-term upheaval. Looking ahead, early-stage startups with fewer long-term entanglements may be more interesting to venture capital investors, because young companies tend to be more nimble in virtually every area, from operations and staffing to sales and marketing.
"One of the things we love about early-stage entrepreneurship is that companies are flexible and able to adapt quickly," Murphy says. He suggests having a solid plan of how you're going to use capital and continue to scale a business in this market.
Proctor's VC-funded company made changes soon after the World Health Organization declared a global pandemic. "What we did was to take a hard look at our 2020 plan in terms of hiring, in terms of the product road map, in terms of spending and in terms of our go-to-market strategy," says Proctor. "First thing, we assumed we wouldn't do any hiring for the foreseeable future to conserve capital."
Nail Your Virtual Pitch 
Perhaps even more so today, entrepreneurs seeking capital need to impress their potential funders with tightly presented, cogent pitches that seem natural in the virtual world.
Though many of the same rules for traditional pitches apply, familiarizing yourself with online platforms will help make a better impression. "Just being logistically prepared goes a long way, because it makes everything more efficient," says Murphy.
Don't just practice in front of a mirror or a circle of family members — use the videoconferencing medium through which your VC audience will see you. After all, there are more technology issues to consider compared with in-person meetings.
Virtual Pitch Checklist:
Practice with the technology you'll be using. Know how to join, present, mute and end a meeting.
Ask others using the same Wi-Fi to pause and disconnect during your meeting, as bandwidth can be frustrating.
Dress for the meeting as you would if you were presenting in person.
Have a clean background with no distractions. You want the attention to be on you and your presentation, not what books are in your bookcase.
Light for success. The light source should illuminate your face from the front. Overhead light will cast shadows and obscure your face.
Connect a few minutes early to give yourself time to work out any unforeseen technical issues.
Position yourself in the middle of the screen. It may be useful to think of it as a traditional portrait in which you want your head and shoulders in the picture.
Make eye contact. Remember that VCs are investing in you as much as your business plan.
Be Patient … Everyone Is Adjusting
Because the pandemic happened so quickly and revealed vulnerabilities in the global response, every industry is in uncharted territory and learning to do business in new ways.
Valuing companies during a period of unprecedented economic contraction, for example, is challenging in the current environment. "No one's really figured out where valuations are landing right now, but everyone knows they're adjusting," says Proctor. "We saw this in 2008. We saw this in 2000, but those were windows where we had more time to figure it out."
What used to take one or two in-person presentations to establish familiarity and trust, Murphy says, now takes several video meetings. Rest assured, however, that while business as usual has changed, venture capital deals continue to close, even in a virtual world.
This information is governed by our Terms and Conditions of Use.
Connect with us
Your dedicated team is ready to serve you and looks forward to speaking with you about your tech banking needs.
Get started