Pamela Joyner's social activism uses a unique vehicle to enact change: her art collection. Her mission is to raise the profile of African-American abstract artists and reframe history to ensure their work is included, and she's made significant progress to that end.  
Over the years, she's acquired more than 300 works, loaning and donating parts of her collection to museums and championing and supporting dozens of under-recognized artists. The two-decade-long effort is far from over, but Pamela says there are signs that the art world is already course correcting.
Case-in-point: Years ago, when visitors arrived at her home to view her collection Pamela used to say, "These walls are filled with artists you've never heard of." Now, when visitors see her collection, many already recognize a number of the artists' names.
We had the opportunity to interview Pamela virtually from her home. The businesswoman and First Republic board member offered insights into why she began collecting and how she's using her collection to drive change in the broader art world.
---
Art is not for the moment that you live. It is a legacy for the ages.
---
Where did the inspiration for collecting art begin for you?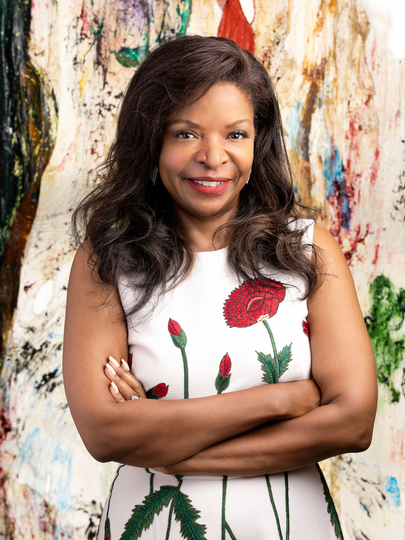 I cannot remember a time where art did not figure prominently into my life. I developed a love of art very early as a result of having free access to wonderful museums in Chicago. And even then, while I developed a love of the impressionist collection that the Art Institute of Chicago has, it was still clear to me that people like me weren't reflected on the walls. It's not that I set out at that moment to do anything about it, but I was cognizant of that situation.
By the time I finished business school, I began to meet people in the art world who brought my attention to these voids in a more robust way. That was when I met the art historian Lowery Stokes Sims. Lowery really helped me navigate how we began art collecting. We started by filling walls, but as we progressed in that journey, it was clear that there was a void that needed to be filled, both with respect to private collections and public collections. And that's the genesis of where we became involved in correcting and expanding the canon to include artists of color.
Did you have an "aha" moment when you realized that you could effect social change via your collection?
Yes — when I actually begin to meet the makers of the art, most of whom were from my parents' generation. My parents had challenges navigating particularly the issues of racial and social justice in their lives. They were pretty triumphant, but it was not easy. These artists also had a difficult journey with varying degrees of success. My "aha" moment was that I came to the conclusion that I could affect the ultimate outcome.
That's because art is not for the moment that you live. It is a legacy for the ages. Most of us will not be remembered for the business lives we've led or the deals we've. But if an artist is important and making a particular statement on the cultural landscape, that can endure through the millennium. I figured I could have an impact on at least a recognition that art was important for the long term.
Many of us may not think about investing in art as a way to drive social change. How did you begin?
I think this is where my training in business helped me because I said, "Okay, this is what I'd like to do. But how are you going to get to that outcome?" What managers know how to do is plan and implement. I went about learning the key strategies and key variables that were important to success.
For example, I learned that most artists of color didn't have curatorial and critical support. They did not have taste-making collectors to support them. And they didn't have what I describe as the distribution channel — that's the gallery system all at one time.
I'm not a pioneer — the finding of the artists, particularly the historical figures, that work had already been done. The question for me was, was the scholarship and the art ever going to be recognized? So some of the approaches that I've used reflect the learning I had to do with respect to the key elements that artists need in order to ensure they're etched into the canon.
How have your efforts been received by museums and the art world?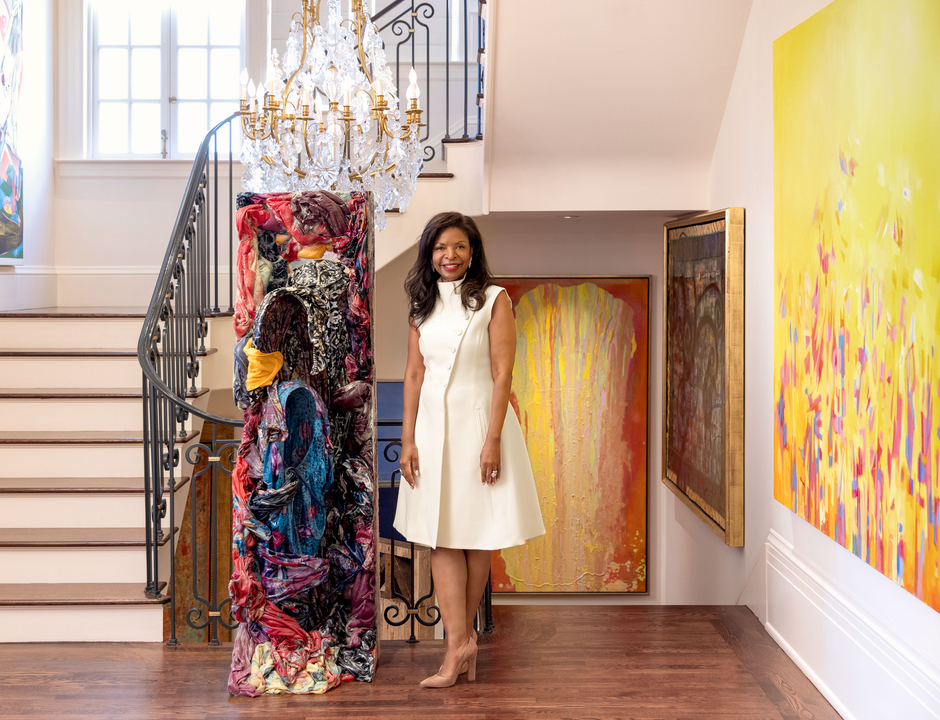 Before I really began collecting in earnest, I talked to some of the people who were actually the pioneers. They were the scholars who validated these careers. Some were skeptical that the museums would be responsive because of their past experiences. But it was a different time.
We've had a really positive reception. I think one of the reasons for that is because I was willing to couple my conviction with my philanthropy. I'm saying: here's the masterwork, and by the way, I'm willing to give it to you.
Do you have an example of a time when all these ingredients came together to elevate an artist?
The first artist I got to know personally was Richard Mayhew, an abstract landscape painter. He's 96 years old, and he still works every day in his studio, even during COVID. About 20 years ago I promised Richard that one day I would give all of his work that I owned to one institution. I selected San Francisco Museum of Modern Art (SFMOMA) because they have a unique ability to tell these stories.
One of the museum's characteristics is that it owns certain artists in-depth. Now, with our donation, SFMOMA is doing a solo installation of Richard's work. If I had not met Richard, I would not have understood the urgency of these stories. It's also notable that he just recently achieved his lifetime record auction price.
As you've noted, a big part of the mission is ensuring people see the work of the artists in your collection. In addition to the works you've donated to museums, how else can the public access your collection?
We open our home in normal times to museum groups. In a normal year, I probably give two dozen art-related events in my home. I also have 40 works for my collection out on loan. For the prior four years, we had highlights of the collection touring throughout several museums in the U.S.
We've also written a couple of books to put the work out there. Another important aspect of the publication is not just the images — it's engaging the scholars who write about the artists. And lastly, we have our Sonoma artist-in-residence program, where people come and make work. We try to put these artists together with other collectors or curators who are in the area or who are visiting. All of it is really a full-time enterprise.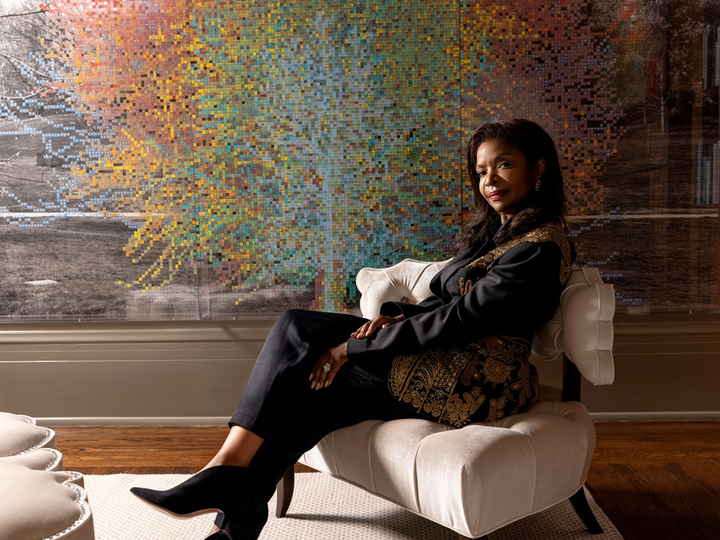 Is it gratifying to see other people view the works in your collection?
Oh, yes. When we first started our collection exhibition tour in 2017, I was down in New Orleans at the Ogden Museum helping with the installation. One day, there was this group of kindergartners sitting around this huge Mark Bradford sculpture I have. It's 20 feet tall. They were largely African-American and Latinx public school kids. And they were all silent on the floor, these little people looking at this giant thing and just hanging on every word their teacher was telling them about who the artist was and what the art was about.
Another time in the tour, I was filming a talk and some high schoolers came in. Between takes, they would say, "What are you talking about? Who are these artists? And who owns this art?" And so, at the end of it, a couple of kids said, "We've never known artists of color. We've never heard of a Black art collector." That was all very gratifying.
Is the process for deciding to acquire a piece fully strategic — or is there a bit of emotion involved as well?
I have a hard time buying things I don't absolutely love. But there are probably 25% of the pieces I own in our collection where I looked at and I didn't "get it" at first. For example, there's an artist named Kevin Beasley, and I own work of his that is a dirty mop bucket. When I first looked at this, a curator pulled my coattail and said, "You really ought to take a very serious look at Kevin Beasley." Well, the dirty mop bucket is actually really important, because it has a historical art reference to the first artist to work with ready-made materials.
This was Kevin Beasley's claim when he was a student at Yale: to have a career focused on the ready-made. It's a gateway piece, and I love it. But I just wouldn't have looked at that and put all of that together if I didn't have these coaches helping me contextualize work. I have to have a lot of input. I don't always get to it on my own. But I'm not afraid to say, "This doesn't appeal to me. I don't really get it." You have to people around you that are willing to teach you.
What's next for your collection and your efforts?
Well, our work is not done. It's far from done. The three-pronged focus for me now is our philanthropy — we're very focused on getting works on view. That happens by either donating money or work to museums, who in turn show works by artists who have been overlooked or who need a broader art historical context.
In the course of doing this work, it's also become very clear to me that there is what people now refer to as the "pipeline problem." There haven't been large numbers of curators of color in major art museums. And so, that is a phenomenon I'm trying to help correct. Curatorial talent, I believe, shouldn't be confined to one area of focus or another. It would be great to have diverse voices in the room. If you happen to have an African-American tapestry expert, you can actually further the discussion about the conceptualist who puts forth his mop bucket as the gateway to his career.
And lastly, in this moment of real social change in museums, and throughout American culture, there's a focus on who sits in the boardroom and who sits in the C-suite. And so, I'm involved in various efforts to help museums become more diverse and more inclusive in those arenas as well.
Artist Credit:
Artwork in Image 1: Mary Lovelace O'NEAL. Hammem, circa 1984 mixed media on canvas 81 x 138 in 
Artwork in Image 2: Suzanne JACKSON. Split-Drape, 2020 acrylic 87 x 55 x 8 in 221 x 139.7 x 20.3 cm
Artwork in Image 3: Kevin Beasley. Aurora, 2018 Polyurethane resin, housedresses, kaftans, t-shirts, du-rags, resin 72 x 20 x 18" / 182.88 x 50.8 x 45.72cm ©Kevin Beasley. Courtesy the artist and Casey Kaplan, New York
Yellow work in foreground to the right: Norman LEWIS. Afternoon, 1969 oil on canvas 72 x 88 in
Artwork in Image 4: Charles GAINES. Numbers and Trees: Central Park Series I: Tree #9, Henry, 2016 black and white photograph, acrylic on plexiglass 95 x 126 1/2 x 5 3/4 in
Artwork in Image 5: Ely Mays. The USS African American
This information is governed by our Terms and Conditions of Use.