First Republic's 10x10 model is a learning roadmap that helps families navigate the challenges of family wealth by addressing core competencies crucial for every life stage.
By following this roadmap, families are better connected, more resilient and primed to build lasting wealth for future generations.
Over the years we have helped families manage their wealth, we have become aware of the striking similarity of their questions and concerns. A paramount concern of wealth creators is how much to give the next generation so that the wealth doesn't undermine their children's motivation, well-being, or self-esteem. They question how they can maintain their children's sense of purpose after achieving significant monetary milestones. And notably, they are concerned about how to maintain family unity along the way.
These are important inquiries. Although there are no easy answers, we have discovered an effective model for family members of all ages to build competencies with the goal of making the family unit that much stronger. The "10x10" model, is a learning roadmap comprised of 10 competencies across 10 life stages. The purpose of this model is to empower family members of all ages to identify critical skills they want to improve and create plans for their personal development.
The model addresses financial, emotional, social, health and wellness competencies that people require at specific life stages and sets a path for obtaining them. The resulting roadmap helps families avoid family cultures that can be negative and/or destructive, leading, for example, to indecisive, unmotivated, and entitled children.
Instead, active, ongoing engagement in the 10x10 Learning Roadmap promotes cultivating life skills and competencies that help family members reach their true potential — and build strong learning families in the process.
Cultivating Resilience and Adaptability: Positive Plasticity
The 10x10 model can help families answer the pressing concerns noted above and many others. In the process, it also cultivates the core qualities we've found are required for success — open-mindedness, resilience, personal agency and responsibility. These capabilities are critical for what researchers have described as Positive Plasticity: The ability to adapt and change in the face of challenges regardless of your age. Positive Plasticity is a part of human development and leads to successful aging and more satisfaction with life.[i]
By refining these capabilities, individuals enable themselves to take calculated risks, make smarter decisions, and better manage uncertainty. As a result, they often lead more prosperous, healthy and fulfilling lives.
On the flip side, the absence of Positive Plasticity presents some risks. We often hear from parents that they are concerned that their wealth may have a damaging effect on their children; for example, leading to children who lack purpose and motivation and who may even potentially miss out on emotional and social development.
Developing a plan that addresses the developmental needs of each family member is the antidote to these fears and can help families sidestep these potential problems related to wealth. The "10x10" model directly addresses these concerns.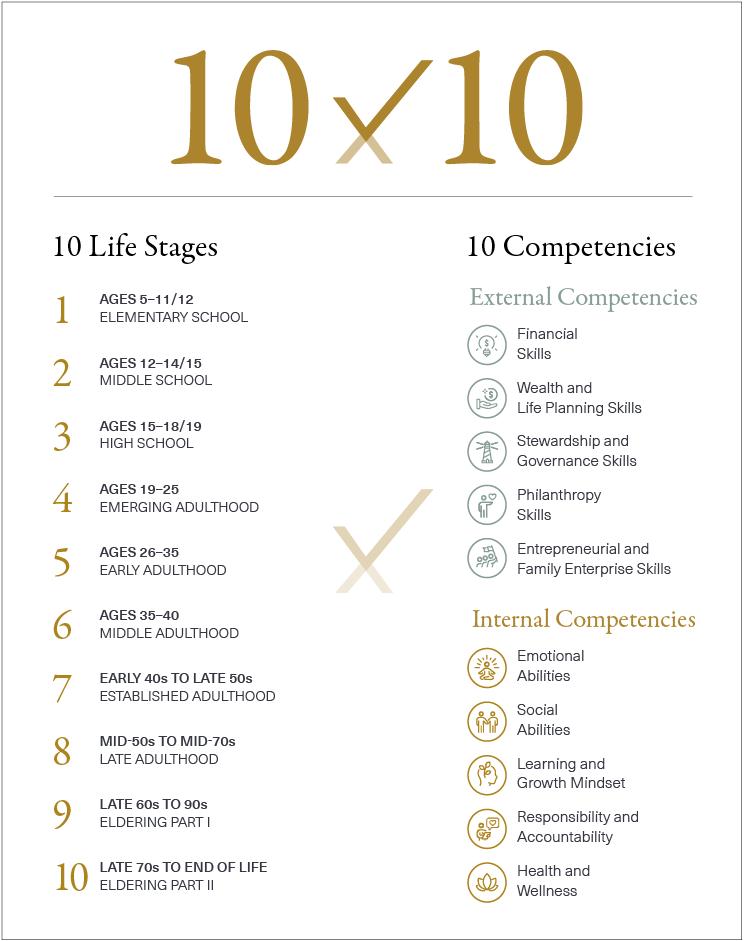 Personal Needs, Personalized Plans
With the above goals in mind, the 10x10 model creates a pathway for personal development that begins in elementary school. But importantly, it doesn't stop at the end of childhood. The model addresses ten key competencies that benefit individuals across ten life stages. These competencies encompass:
Emotional skills such as self-awareness and respect for others
Responsibility and accountability
Aspects of a learning and growth mindset
Social skills that enable healthy relationships
The model is successful because it addresses each person's development and empowers them to improve critical areas. To get started, individuals assess their skill level in several competency areas (from "strong" to "needs improvement") along with their motivation and interest in building competencies.
For example, consider a recent client whom we'll call Samar. He's a 27-year-old, second-generation family member whose parents recently sold their business. He's in early adulthood, financially independent and debating whether his family's wealth can help him chart a new career path. He's also interested in finding a life partner. In an assessment, he identified financial skills, wealth and life planning skills, and emotional capabilities as areas he needed to strengthen. He also noted that he was very motivated to do so.
Samar's sister Kira, however, has different needs. She's still in high school and unsure of what she wants to do in life. As she assessed herself, she highlighted the internal areas of personal identity, responsibility and accountability as skills she'd like to improve. She also wanted to cultivate her financial skills to prepare for life after college, when her parents expect her to be self-sufficient.
With the help of a wealth advisor, each family member reviewed their assessment and then designed learning plans that meet their needs.
For Samar, evaluating his needs entailed scheduling monthly meetings with his advisor. Together, they worked on a personal financial plan and learned more about the psychology of family wealth. He also decided to work with a coach and wealth psychologist to help him think through his career choices and understand his feelings about his family's money.
Kira plans to take on increasing responsibilities as she moves through high school. She and her parents are going to discuss money management and perhaps buy some stocks together. She's also going to explore different career options.
Because she's still an adolescent, much of the plan entails communicating with her parents and learning more about their expectations, balanced with identifying areas for exploration in creating her own path. The family will also talk about their values and philosophies around money and how those play out as Kira grows up.
An Ongoing Journey
The 10x10 model is a process, a strategy that families can revisit as individuals move through life. Samar and Kira will enter new life stages, which come with unique needs — and require new plans for growth. The model facilitates continuous development, creating healthy individuals who are not encumbered by their wealth but instead empowered by it.
In turn, this positions the entire family to flourish.
Building a strong and connected family of wealth is an admirable goal for many families with significant financial capital, but it shouldn't be left to luck or happenchance. The 10x10 model provides a roadmap for developing healthy individuals, aligns family members around values and goals, and fosters the capabilities and connections that form longstanding family bonds. In the words of Lao Tzu, "the journey of a thousand miles begins with one step."
This information is governed by our Terms and Conditions of Use
---
[i] Staudinger: The Positive Plasticity of Adult Development, Columbia University 2020.