Introduction
Each year, millions of families are affected by pediatric illness or injury. Children with medical challenges can experience pain, loneliness, fear and loss of autonomy — and family members and caregivers often experience stress, financial struggles and disruptions to their routines and relationships. Furthermore, studies have shown that children who face serious medical challenges also face greater risk of social and emotional challenges as they get older.
Play has been proven to be a powerful coping tool for children going through medical challenges, especially during hospitalization, illness and the grieving process. Through play, children expand their minds, move their bodies, and gain valuable social and emotional skills such as self-expression and cooperation. 
For 20 years, Project Sunshine has brought the healing power of play to children living with serious chronic conditions, experiencing injuries or undergoing surgery. When the COVID-19 pandemic changed visiting restrictions for pediatric patients in hospitals, Project Sunshine developed TelePlay, a secure virtual play platform to connect children with volunteers and other children. 
For this case study, First Republic spoke with Whitney Namm Pollack, Executive Director of Project Sunshine, who oversaw the transition to virtual volunteering. Pollack shared with First Republic the unique challenges and early successes of implementing the TelePlay program, and the continued transition to a hybrid virtual and in-person model.
The issue
Prior to the COVID-19 pandemic, Project Sunshine's model focused on hospitals: The organization facilitated around 20,000 volunteers visiting pediatric patients in 350 medical facilities. Volunteering in person requires time, training and careful planning.
First, Project Sunshine matches volunteers with hospital partners in their area, balancing hospitals' visitation needs with volunteers' schedules. While this helps facilitate a smoother volunteer process, in-person volunteering does have limitations: Logistics like location and availability may affect which hospitals receive more volunteers.
Before visiting children in the hospital, volunteers go through a safety clearance, undergo comprehensive training for working with children in a medical setting and are required to get vaccinated against common illnesses to protect the health of patients, many of whom are immunocompromised. These steps are necessary, as the top priority for Project Sunshine is the health and well-being of the children they serve. 
In March 2020, as Project Sunshine was planning to expand their in-person volunteer outreach, hospitals began significantly limiting patient visitation due to COVID-19, which exacerbated issues for children facing serious medical challenges. "There were still children in the hospitals or at home, children who were immunocompromised, who were already so isolated. Then COVID-19 appeared and they couldn't even have visitors or play with other children."  
With new safety restrictions in place, Project Sunshine pivoted to creating and maintaining connections virtually. "We wanted to continue to deliver our mission," says Pollack. "The pandemic really shone a spotlight on the importance of human connection to health. That inspired us to start TelePlay."
TelePlay: pivoting to virtual play
By May 2020, Project Sunshine had launched three pilot programs for a virtual volunteer option called TelePlay. In creating TelePlay, Project Sunshine leadership took the following into account:
Focusing on the user's needs: When piloting their virtual option, Project Sunshine searched for a platform that was both well-known and easy to use. They settled on Zoom because many of their hospital partners, volunteers and patient families were already familiar with it.
Addressing hospital requirements: Hospitals require patient information to be protected under the Health Insurance Portability and Accountability Act (HIPAA), so Project Sunshine ensured that the platform they chose was HIPAA-compliant. 
Developing engaging and accessible content: Project Sunshine staff developed virtual-first content that was accessible for children who have mobility or cognitive limitations. All content was developed with the help of a child life specialist — a trained professional who provides support for children in medical settings — so activities have therapeutic value in addition to being fun and engaging.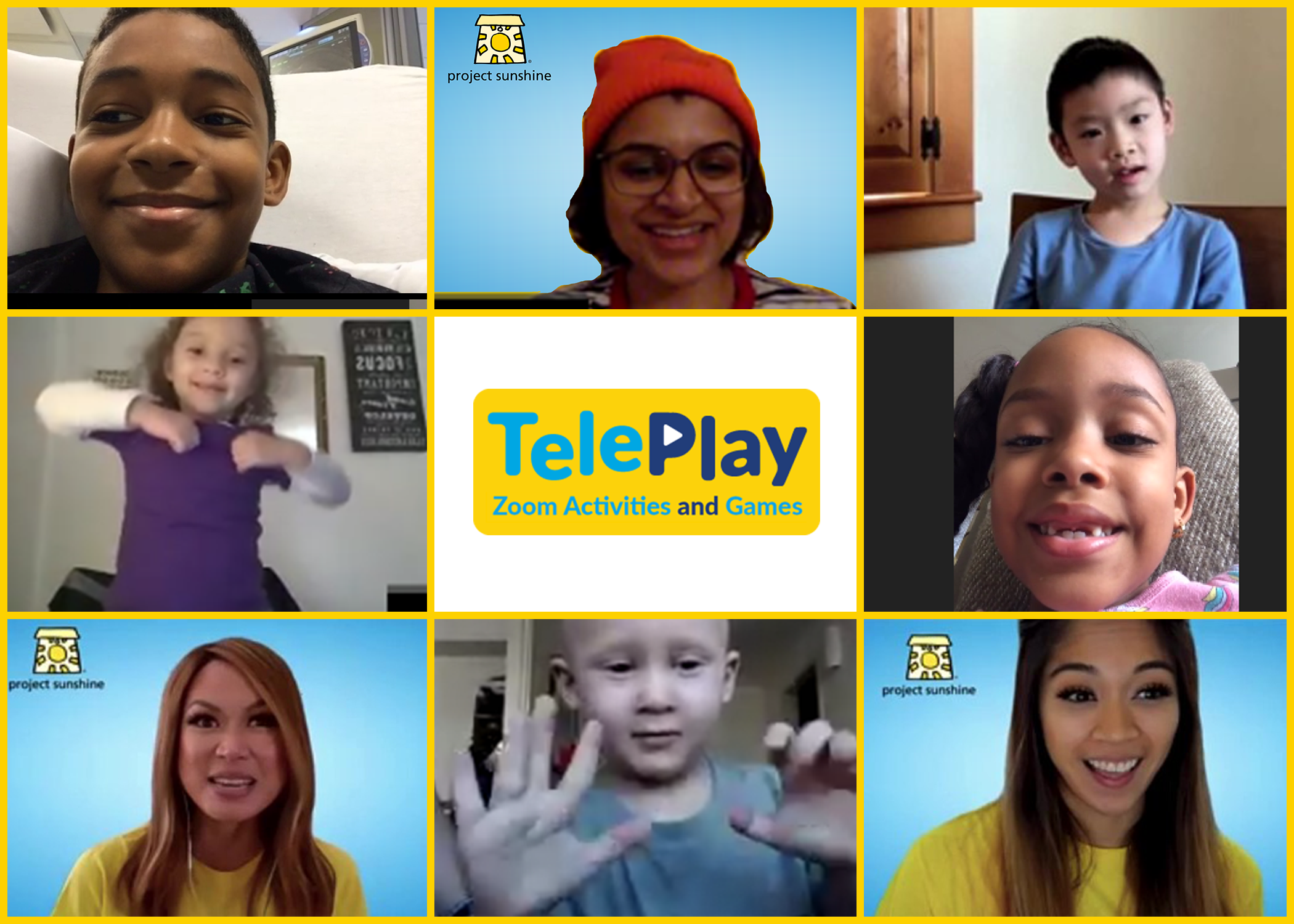 The importance of partnerships
Just as it was important to be flexible with content creation and program delivery, Project Sunshine remained agile in their partnership model with different kinds of institutions:
Medical facilities: With hundreds of medical partners, Project Sunshine works hard to meet the evolving needs of each hospital, including specific requirements for training, health and safety, and technology.
Nonprofit organizations: Project Sunshine reaches children with certain medical diagnoses by partnering with patient advocacy groups that serve a specific medical community, such as diabetes or pediatric cancers. 
Corporate partners: Corporate sponsors play a significant role in providing the funding and volunteers that help Project Sunshine deliver their services to patients, and how that support is delivered has changed over the course of the pandemic.
The future of play: in-person and virtual
With the success of TelePlay, Project Sunshine has reimagined their volunteer programs as a hybrid model.
In the future, the organization plans on investing in both in-person and virtual programming to improve their offerings, remain agile and scale their programs to meet the needs of even more children.
Reintroducing volunteers in person
In order to return in-person volunteers to medical facilities, Project Sunshine is dedicating time and resources to addressing the needs of hospitals, coordinating availability with volunteers and investing in retraining for in-person programming — all while balancing safety concerns as the COVID-19 pandemic evolves. The health and well-being of patients remains the top priority. 
In the meantime, TelePlay offers a versatile and accessible solution that keeps everyone connected, including Project Sunshine and their partners, caregivers and medical providers, volunteers and children.
Investing in TelePlay
After the initial success of their pilot program, Project Sunshine has seen true benefits to offering an opportunity for virtual volunteering and is committed to making TelePlay a successful and scalable program.
With help from a tech advisory board, Project Sunshine's leadership is embarking on a technology review to make improvements to user accessibility for caregivers and children. Finding the right technology partner is crucial for improving user experience while also maintaining critical features such as HIPAA compliance and data protection.
Project Sunshine is aiming to scale their efforts with TelePlay to reach more children in their homes. "There are 8 to 20 million children living at home with chronic illnesses," says Pollack. "With TelePlay, we can reach more children at home." This is a group who went underserved in the previous model — and who, thanks to virtual volunteering options, are now within reach.