In 1998, Boston Youth Symphony Orchestras launched the Intensive Community Program (ICP) as a response to the barriers keeping classical music training out of reach for many would-be musicians, including African Americans and Latinxs, who are underrepresented in orchestras.
The program lowers those barriers in Massachusetts by providing top-tier orchestra training to students in kindergarten through twelfth grade from underserved communities in and around Boston. ICP serves as an audition-based feeder program for BYSO's six performance ensembles — 12% of BYSO musicians attend ICP.
Last January, First Republic spoke with ICP Artistic Director Nicole Cariglia and students Kensie Carroll and Noanddi Manigat to learn about their intensive music community.
Top photo by Michael J. Lutch
Waking up to music
As a very young child, Kensie Caroll, now 10, woke up each morning to the sounds of cello and viola as her two sisters, twins six years older than Kensie, practiced their respective instruments for ICP.
"She was in a stroller, going to Sydney and Sadie's auditions," said Kensie's father, Marc. Born into their music and the ICP lifestyle, when Kensie auditioned for the program at the age of four, she was ready.
But six years ago, as Kensie's parents considered having her audition for ICP, Artistic Director Nicole Cariglia was a bit concerned: "I said, 'Marc, she's really young.'" Most four-year-olds don't earn one of the selective program's 90 slots. Kensie did. And as she began her own cello training, the demands didn't surprise her. "By default, she knew what she had to do: Get up, practice, then go to school, and then go to the rehearsals and lessons," Marc said.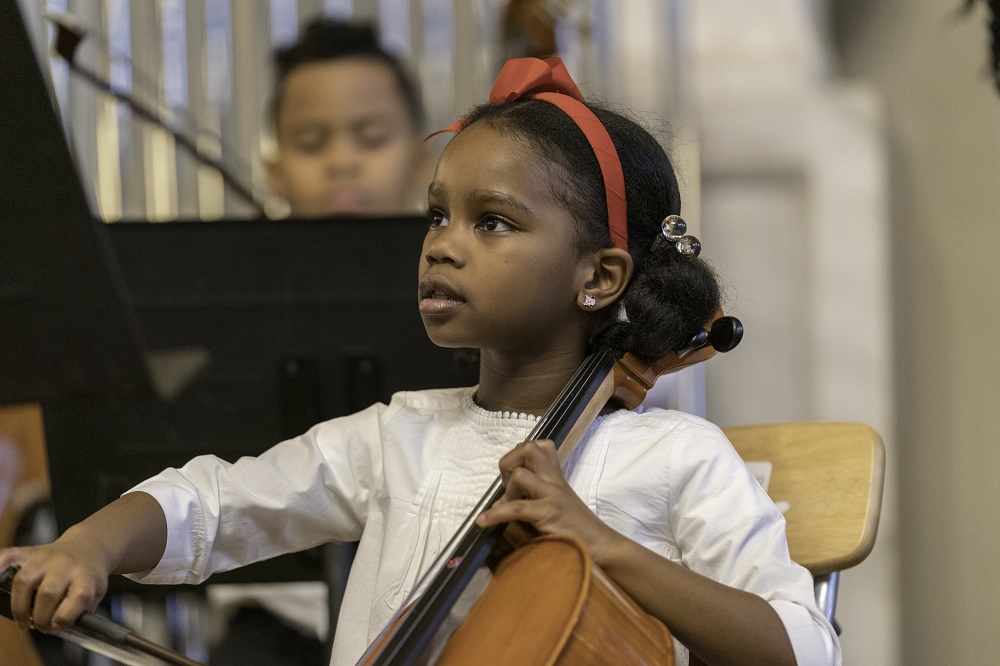 Photo by Michael J. Lutch
Kensie now performs with BYSO's Young People's String Orchestra. She enjoys her craft more and more with time. "When I was younger, it was a little harder, but now that I'm a little older, it's getting easier and it's kind of more fun," she said. While Kensie remains close friends with those students in her original ICP cello cohort, she has also gotten to know other young musicians in BYSO and embraced being a part of an even larger community that shares her passion for classical music.
A classical music community, built on discipline
Kensie's favorite part of BYSO has always been its annual holiday concert. It's a fondness that 18-year-old Noanddi Manigat shares. Noanddi, who plays the bass, auditioned into ICP when he was six. At his first holiday concert, he met "Ms. Marta" (Zurad), a conductor with BYSO. "She's kind of strict, but she's still fun, and she gave out candy to everyone after," Noanddi recalled.
Now a high school senior who is headed to Skidmore College this fall, he says the program has been essential in shaping him. "The biggest influence it's had on me is instilling some discipline," Noanddi said. ICP students sign a contract promising to practice their instrument an hour each day beyond their in-person lessons. "There have been some days where I've slacked, but I always make up for it," he said; he's learned the importance of sticking with his craft.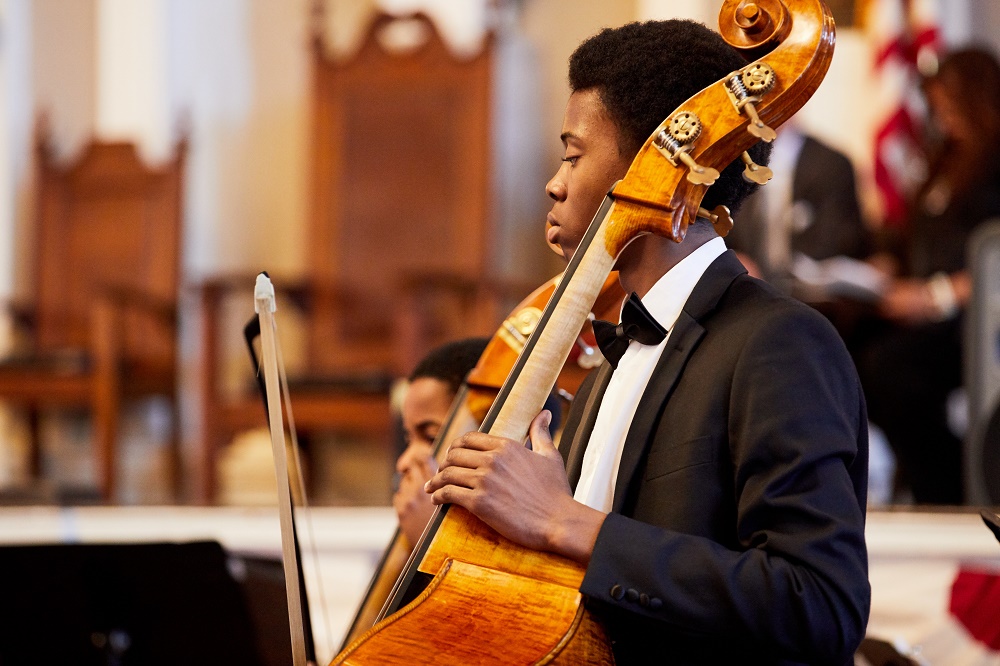 Photo by Kelly Davidson
Noanddi also values ICP's mission to diversify the ranks of classical music. "Classical music is tough to get into because instruments are so expensive and orchestras aren't everywhere," he said. "You also have to be taught, which costs money."
Noanddi's been with ICP so long that the program's uniqueness surprises him. Most of his school friends don't know much about classical music. However, Noanddi is now considering double majoring in bass performance and physics or engineering in college, and ICP has provided a constant source of learning, focus — and friendship. "First and foremost, it's a community of people who are just here to focus on one thing," Noanddi said. "It's nice to be serious about it."
A joyful return
After a fully remote 2020/2021 season, ICP returned in person last August. "The biggest benefit I've noticed from coming back in person has been the return to concerts," says Nicole. "Being able to perform for a live audience really increases our students' motivation. The ICP experience isn't just about learning to play an instrument, but about sharing our work with others. We're so happy to be able to do that again."
Nicole added that First Republic has been an invaluable partner for ICP throughout the pandemic. Last season, First Republic supported the purchase of laptops, hotspots and cables to make sure that all students had access to ICP's remote learning curriculum.
This season, First Republic supported the purchase of new instruments and accessories for the ICP instrument library – including a bass trombone, a first for ICP's collection. Updating the library is an ongoing priority, since ICP guarantees students access to a high-quality instrument throughout their time in the program, and students' needs change over time as they grow and advance their skills.
The evolution of ICP
How do you describe ICP and the resources it provides?
Nicole: For ICP, about 120 students audition each year, and we end up with 16. Once a student enters ICP, we provide them with good-quality instruments. We provide them with summer study, music theory, piano accompaniment, private lessons — everything they need to successfully learn an instrument and compete at the level of a top youth orchestra like BYSO.
I think ICP has done well at increasing African American and Latinx representation in the youth orchestras. Of course, the hope is that it continues into the professional orchestras: Currently, about 5% of American orchestras' players are African American or Latinx. For BYSO's student body—all of their orchestras, plus ICP students not yet in an orchestra — that's likely about 18%, in large part due to ICP.
How do you decide who to admit?
Nicole: We meet with all the applicants — usually 120 students in a given year — in groups of five for a music lesson, and we look for what their body is like when an instrument is put into their hands. They sing, they clap, they do rhythm. And the most important thing is: How do they interact in that group of five? Then, we go to 32 students, and we work with them for six weeks, in two-hour classes with eight students in a group. We see who can focus for two hours with a ten-minute break. And as we push them further on the instrument, how do they do? At the end of that, we have our class of sixteen: a great group of kids with some kind of natural talent and internal drive with a strong work ethic.
How has the program evolved over the years?
Nicole: It's definitely grown. In 1998, ICP recruited ten students. Now we've got over 90, and five years ago, we added a winds program. Until then, it was just a string instrument program. Now we have wind players as well, so ICP represents the whole scale of the orchestra.
It's an incredibly rigorous training program, but it has a huge community aspect as well. These kids grow up together. They spend one or two days a week together, and then at our summer camps. It's an unbelievable thing to spend time with such a community, and for such a long period of time.
Working with Kensie and having worked with her sisters before then — I've known their family for ten years. And there's a girl, Becky, that I teach now, and I taught her sister as well. She's in college, and Becky's mom would come to cello lessons with her older daughter when she was pregnant with Becky. The longevity of ICP, and its community aspect, I think, are the most amazing things about it.
ICP students' high school graduation rate is 100%, and 100% also graduate from college. What role, if any, do you think the program plays in this?
Nicole: ICP students spend about four and a half hours in the program a week. They are expected to practice an hour a day and sometimes spend up to seven hours with us on Sundays. It's a lot of work, and the expectation of work ethic is very high. It teaches them time management — they juggle school work, music work and rehearsals, some of them sports, too. There's no way they would go on to college and not be successful.