Generative trusts reveal how grantors can use trusts to establish a powerful learning relationship between the trustee and the beneficiary. 
Through mentorship and education, the generative trustee can help prepare the beneficiary to receive their assets.  
For many families with assets to pass through generations, trusts are integral components of their estate plans. People create trusts for multiple reasons, including minimizing taxes, maximizing exemptions and protecting assets from creditors. But can the trust structure also help educate and empower the beneficiaries? We think so. 
A trust structure sometimes involves a trustee who executes on the minimum of what is legally required — administering the trust, investing and managing the trust assets, and making distributions to the beneficiaries on demand. However, trust administration has evolved as drafters recognize that trusts can be so much more than documents and structures that are difficult to understand and navigate. Generative trusts provide a prime example of allowing the grantor to encourage a strong trustee/beneficiary dynamic that enhances the growth and well-being of the trust beneficiaries. In addition to administration, the trust documents provide a framework to foster a positive relationship — with the trustee serving as an educator and mentor — and help prepare the beneficiary to be a good steward of the trust assets. 
A relationship for the ages
The relationship between the trustee and beneficiary is a central factor of any trust — and it's been that way for centuries. Hearken back to the time of the Crusades when a crusader asked the local bishop to hold and watch over his assets and home for his family while he was gone, primarily as a protectionary measure to ward off the lurking neighbor. If the Crusader returned, the bishop returned everything to him as the beneficiary. But if he didn't return, the bishop turned the title over to his son when he attained the age of majority.1 No one had a conversation as to whether the Crusader's son would be prepared to receive the assets, or whether the bishop would provide guidance. The local bishop likely held the Crusader's assets while the Crusader was away and was only tasked with protecting and preserving them. 
Fast-forward to the present day and contrast the historical type of trustee/beneficiary relationship with one in which the trustee administers, invests and distributes trust assets in a way that involves and educates the beneficiary. The driving motivation is preparing the beneficiary to receive the distributions.2 This describes the generative trustee, who is someone who builds on the role of educator and mentor while balancing his or her legal duties. By establishing a multi-dimensional approach of integrating the legal, technical and mechanical framework in addition to educating and coaching to build competencies, these relationships can help create learning beneficiaries who are better prepared to receive the trust assets when the time comes. 
Cultivating the right dynamic
The labels describing the trustee and beneficiary relationship can range from productive to dysfunctional, collaborative to controlling, expansive to restrictive and everything in between. These polarities are understandable given that the trustee/beneficiary relationship is in some ways like an "arranged marriage." Wealth management professionals have placed an increasing distinction between creating an estate plan and creating lasting legacies.3 Understanding the intersection between document drafting and relationship-based trust administration is foundational to these lasting legacies — this is how trusts become a generative (positive) influence on the lives of the beneficiaries.3 By creating experiences and taking advantage of opportunities for mentorship, coaching and education, a generative trustee can empower beneficiaries to think for themselves. They can help beneficiaries take responsibility for their life trajectories via the development of skills that help prevent the wealth traps of dependency and entitlement.
Developing core competencies  
Experts who solely focus on the quantitative aspects of trusts, such as tax law benefits and capital appreciation, may neglect the supportive needs of the beneficiary. By weaving in qualitative considerations, generative trusts can introduce the beneficiary to wealth in the family and allow the beneficiary to learn while the trust assets appreciate. A beneficiary who develops key core competencies can be successful beyond the trust relationship. Incorporating personal development frameworks gives the beneficiary opportunities to continue to grow and accumulate appropriate skills and competencies at each life stage.4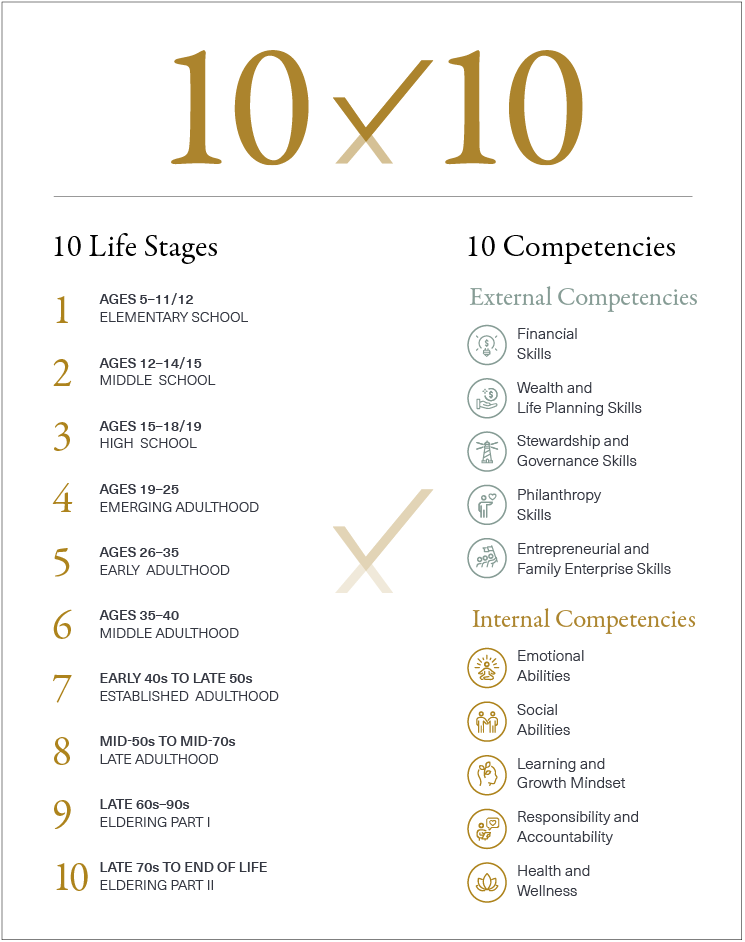 For instance, learning financial skills is one area that many focus on and is important because trusts often provide for discretionary or mandatory distributions. The process of requesting a trust distribution may feel burdensome. For example, beneficiaries may wonder why it is important to supply supporting documentation when making a request.  While sometimes essential for the trustee to evaluate the beneficiary's financial situation, it is also helpful to the beneficiary to review and understand. This is one way to keep track together. For beneficiaries who are young or require additional guidance, this is an area to work together to build skill and understanding.
At First Republic, we recognize that trusts can be far more than legal documents. As you consider your trusts, explore how a generative trust and trustee can support a learning beneficiary. Through coaching, mentorship and education, you can leverage your trust to cultivate the financial, human, intellectual and legacy capital that is important to you and your family.
1. Hartley Goldstone, "Family trusts that preserve family and preserve trust", The International Family Office Journal, published by Globe Law and Business, December 2017
2. Hughes, James E., Family Wealth: Keeping It in the Family, 1997
3. Warnick, John A., Trust & Estates, May 2018
4. Warnick, John A., Trust & Estates, May 2018
5. 10x10 Learning Model. Created by First Republic Family Engagement and Governance and Money, Meaning and Choices Institute
The strategies in this document will often have tax and legal consequences. It is important to note that First Republic does not provide tax or legal advice. This information is provided to you as is, is not legal advice, and we are not acting as your attorney or tax advisor. We make no claims, promises or guarantees about the accuracy, completeness, or adequacy of the information herein. Clients' tax and legal affairs are their own responsibility. Clients should consult their own attorneys or tax advisors in order to understand the tax and legal consequences of any strategies mentioned herein.