With an estimated 58,936 homeless individuals living in Los Angeles County, the need for homeless and housing services is undeniable.
Ken Craft identified this need over a decade ago and started Hope of the Valley Rescue Mission, a nonprofit dedicated to combating homelessness in Los Angeles' San Fernando Valley.
As COVID-19 puts an increased demand on community resources, Hope of the Valley is ramping up its efforts to ensure that Los Angeles County's most vulnerable residents are healthy, safe and supported.
We spoke with Ken to learn more about the organization's mission and how he and his teams have swiftly adapted to better serve homeless individuals in the wake of COVID-19.
What motivated you to start Hope of the Valley in 2009?
Ken: My journey is a result of successes and failures in life. I was a pastor for many years; I ended up resigning, and it was a very dark time in my own life. I went through a divorce. I lost everything and couldn't see a pathway back to significance in any way. But I got a job with Equifax doing national sales and started to make more money.
Then one day I got a phone call from a friend of mine who ran a rescue mission. He asked me, "Have you ever considered working with the homeless?" And I said, "No, I have not." But I went and had lunch with him anyway at his rescue mission, and it was a very emotional day for me. I thought, "That could have been me. That should have been me."
I left that day broken inside. I prayed a simple prayer: God, if you see fit to use me to give people a second chance like you've given me, then I'm open for business. Three days later, I got a phone call from the same organization asking me to lead one of their new projects. I remembered that little prayer and said, "I'll do it!" So I started a homeless program with them, and that was my foyer into homeless services. I soon realized this is a very real need in our community and in society.
You've served 16 years as a pastor, six years with a Fortune 500 company and another eight years as a Mission Director of a homeless shelter. How have those previous experiences influenced your approach in leading Hope of the Valley?
Ken: I've always been fairly compassionate towards the needs of people. What really helped me was being on the faith-based side and understanding the deeper spiritual needs that people have. Then working at Equifax, I learned a lot about the business world. So when it came time to start Hope of the Valley, I had this really unique balance of the nonprofit side coupled together with the business side to make sure we had a strong, viable and sustainable business that could last and weather the storms of the nonprofit sector.
Whenever anyone starts any business, it requires a tremendous amount of faith, risk, planning and strategy. In the nonprofit sector, it's very much the same. We try to find where there are gaps in services. There are about 1.8 million people in the San Fernando Valley, and close to 8,000 homeless individuals, but it's one of the most under-served areas when it comes to homeless services. So over 10 years ago, I thought the Valley would be a great place to put down roots.
What started as serving a hot meal on a Thursday night in August, 2009 has turned into an organization that now has 13 sites — and by the end of summer, we will have two more facilities. That's what the first 10 years have been: a ride. We've made some mistakes along the way. Failure is not final; you have to learn to fail forward.
In our first 10 years, we've quickly become one of the leading providers of housing and homeless services here in the San Fernando Valley. Our mission is very clear: We exist to prevent, reduce and eliminate poverty, hunger and homelessness by meeting immediate needs and providing long-term solutions. We don't want to just give a handout, we want to give a hand up and empower people to change their lives for good.
How has Hope of the Valley grown its programs and diversified its revenue streams to support that growth?
Ken: When we first started during the Great Recession of 2009, we found a church and started serving meals one day a week, then two days a week, then three days a week, and it just continued to grow. We outgrew that place and moved up the street to a 26,000-square-foot building. There, we built out showers and a clothing program, and we opened up our very first thrift store, because when it comes to the nonprofit world, you've got to think, how do you create that financial engine to allow you to cover not only day-to-day operations but also growth?
Today we have four thrift stores, generating 40% of our revenue altogether, which goes right back into programs. Another 40% of our revenue comes through contracts with the city and county of Los Angeles, and the last 20% comes through individual donors, foundations and grants. We have over 50,000 donors who have contributed at least one gift to the mission. You're only as good as the people who sponsor, support and believe in you.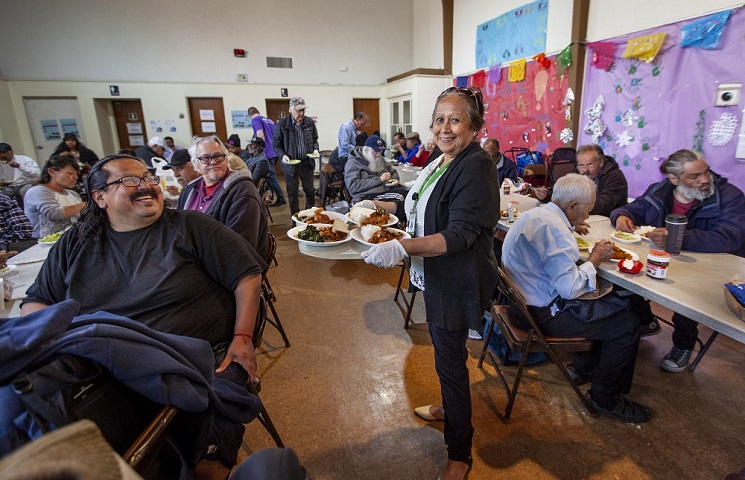 How has Hope of the Valley forged partnerships to carry out its mission?
Ken: We have one of the largest access centers in the San Fernando Valley, where anybody and everybody can receive meals, showers and clean clothes every day. We built out the office area and invited the Department of Mental Health, Cornerstone drug and alcohol treatment center, the LAPD Hope Team, LA Family Housing and Los Angeles Homeless Services Authority (LAHSA) to join us onsite because we realized we can't do this all on our own. We brought it all in house to create a hub, now called the HELP Center.
All nonprofits are looking for outcomes. But how do we generate the outcomes? In the last 12 months at the HELP Center, we did over 1,600 unique intakes of people experiencing homelessness. If you're another service provider that provides, for example, medical care, you want to be with us because now you have 1,600 people whom you can get enrolled in health services. There's this synergistic energy that happens when we work together. By building a coalition or team of individuals that work together, it is truly in the best interests of the client.
How has Hope of the Valley adapted its programs and services in the wake of COVID-19?
Ken: In mid-March, we got a phone call from the city of Los Angeles to help convert over forty recreation and park centers throughout LA City into temporary housing for people who don't have homes, and they asked if we were willing to take on two of them in the San Fernando Valley. Within the first couple of weeks, one of the other service providers said it was more than they could handle, so we did some quick hiring and training and took on two more sites. Then LAHSA asked us to take on three more sites.
Before COVID-19, we were offering 321 beds every night and providing 640 meals every day. Since COVID-19 hit, we have added an additional 266 beds and 798 meals every day. We went from 321 beds to now 587 beds per night; what was 640 meals served per day is now 1,438 meals served every day. Within our facilities, we take everybody's temperature three times a day and practice social distancing. Every client is required to wear mask at all times except when sleeping.
On top of the increased need, we had to shut down our thrift stores, and that was tough, but we still found a way to adapt. We're working to get the most vulnerable people off the streets and get them the care they need. It's been incredible to be able to say "yes," to be able to help our brothers and sisters on the streets safely shelter in place. One of our mottos is, "Hope of the Valley: where everybody and everything gets a second chance." That ties into everything — our thrift stores, and the way we love and care for people. I'm very grateful the City of Los Angeles asked us to help.
What do you envision for the future of Hope of the Valley?
Ken: Part of my DNA has always been about growth, sustainability and being strategically opportunistic; when opportunities present themselves, I want to be in a position to say "yes." The vision that I have is that in the next few years we create a parent organization called Hope United. Under Hope United, there would be Hope of the Valley, Hope of the High Desert, Hope of Hollywood and all these different entities having their own teams. Through this, we could empower the front lines in various communities so that we can expand, grow and truly bring lasting impact into other areas and regions throughout Los Angeles.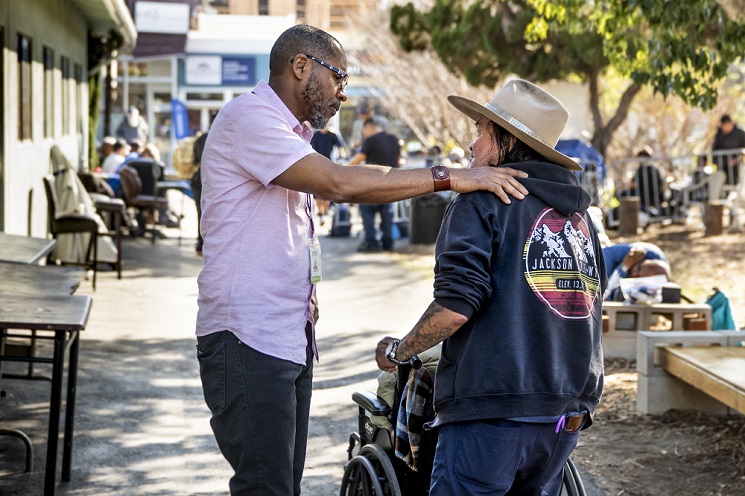 What can the community do to support and help the homeless?
Ken: People can always make a donation, of course. But equally as important is to ask what an organization's greatest needs are. Give your time, talents and treasure; offer your wisdom, wealth and work to Hope of the Valley or your local homeless shelter. We've had people donate cereal, coffee and clothes, and that makes all the difference. People are so generous and that encourages me.
We're all working for the common good to help others, and we need to allow our hearts to be broken sometimes. The easiest thing to do is be critical or judgmental, but there's so much mental illness, substance abuse, disability and deep trauma that contributes to homelessness. It's easy to dismiss them, but what we need is a community that says, "No, we're not going to discard and dismiss." We need humanity, and we have to show the best of humanity by loving people and lifting them.
[Photo Credit: Courtesy of Hope of the Valley]