Your brand can play a critical role in your nonprofit's growth, reputation within the community, and even its long-term survival. It's worth asking, "Is your brand working for your organization's success or against it?"
If it's the latter, rebranding can help powerfully retell or reposition your organization's unique story. What's more, a rebrand can revitalize your donor base, attract and retain talented employees and strengthen fundraising efforts.
Rebranding can also be a daunting prospect, especially if you don't know why, when and how to start. A recent workshop hosted by First Republic drew insights and best practices from the rebranding experience of Riverside Park Conservancy — a nonprofit that works side-by-side with the New York City Parks Department to maintain, restore and improve Manhattan's most spectacular waterfront Park for the enjoyment of all New Yorkers — and its creative partner, Applied Design Works.
The event was moderated by Todd Rassiger, Head of East Coast Business Banking at First Republic. Panelists included Daniel R. Garodnick, President and CEO, Riverside Park Conservancy; Margaret Holen, Vice Chair of the Board of Trustees of Riverside Park Conservancy; and Brad Scott, a founding Director of Applied.
When and why
Rebranding can be a powerful tool for transforming public perception of your organization. But it's important to consider why you intend to rebrand and what you hope to accomplish.
Like most companies, nonprofits tend to use rebranding as a tool to maximize their growth efforts when they are in a transition period, either broadening the scope of their activities or embarking on an ambitious new phase of development.
"Most of our mission-driven clients are at a point where they are growing or expanding their mission, and they need to get the recognition necessary to sustain themselves through fundraising and other efforts," says Scott.
That was precisely the challenge facing Riverside Park Conservancy. In recent years, the organization had expanded its public programs, invested in staff and infrastructure, and laid plans to devote even more resources to underserved sections of the park.
Yet despite all the work it had done to engage the community in active stewardship of a beloved park, the Conservancy itself remained something of a secret.
Rebranding provided the perfect solution to reposition the organization in the community and enhance its appeal to existing and potential donors and staff.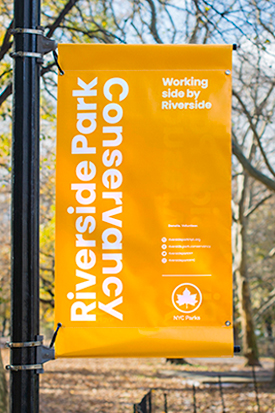 More than just a logo
The impetus to rebrand can be as simple as the desire to change your nonprofit's outdated logo. But the ensuing process may unearth much deeper needs that can ultimately help shape your new brand and drive your organization to new heights.
When Garodnick took the helm of the Conservancy in 2018, he quickly realized that the venerable organization needed to raise its profile and do a better job of telling its remarkable story.
Insiders knew how a small group of neighborhood volunteers had banded together more than three decades earlier to revitalize a precious public resource, ultimately building an organization with 33 employees and an $8 million annual budget dedicated to caring for six miles of waterfront parkland on the Upper West Side for the benefit of all city residents.
Yet many Upper West Siders still didn't know what, exactly, this homegrown treasure did for (and with) the community.
And that story needed to get out to potential donors, employees and volunteers if the organization, like the park itself, was to thrive.
"We needed to have our best face forward, and we needed to show ourselves to be a crisp organization that could handle big gifts and big projects," Garodnick says.
Listen carefully
Building consensus on the need for a rebranding is incredibly important, though it can be difficult for a nonprofit with limited bandwidth and resources to take on this task alone. This is why teaming up with a creative partner who is familiar with common pitfalls and hurdles is so valuable. The Conservancy relied on Applied Design Works to set up a process informed by best practices from a creative and change management perspective.
The first crucial step, agreed upon by Applied and the Conservancy, was to conduct stakeholder interviews at the beginning of the rebranding journey.
By clarifying the Conservancy's needs and objectives, those interviews helped Garodnick and key board members such as Margaret Holen and Board Chair Lori Bassman to persuade others within the organization that rebranding was a worthwhile investment — and this proved crucial to the project's outcome.
At the same time, having administrators and board members articulate what the Conservancy was about and what they hoped to achieve enabled Applied to craft a logo and positioning statement that accurately reflected the organization's mission and character.
For example, the agency fashioned a fresh tagline — "Working side by Riverside" — that playfully captured how the Conservancy works alongside the Parks Department, and they cast the entire logo in the same rich color that the leaves of the park's honey locust trees assume in autumn — one that any park lover or Conservancy volunteer would immediately recognize.
Such details not only helped create a new brand that remained deeply rooted in the history and identity of both the park and Conservancy; they also helped win over those who remained attached to the organization's old logo for sentimental or nostalgic reasons.
That kind of consensus-building is critical to successful rebranding. In the end, simply providing the opportunity for people to voice different perspectives — and air conflicting opinions — can help stakeholders (who might not agree on every point) find common ground.
"We didn't have consensus at every stage," says Holen. "But people felt heard, and in the end they felt more invested and more comfortable with the process."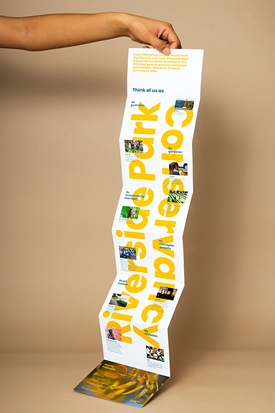 Stay focused
If getting internal buy-in is important, so is clearly communicating your project requirements to the creative professionals who will design your new brand.
"The worst thing you can do for a design team is to say, 'I'm going to give you a blank slate,'" says Scott. "The more rules you apply to the project, the better the product will be."
That means being precise and unambiguous about everything from budget and timeline to scope and deliverables.
Clear and focused communication between Applied and the Conservancy, coupled with a laser-like focus on aligning every aspect of the project with the organization's mission, allowed the creative team to go from conducting interviews to delivering compelling materials tailored specifically to the organization's strategic goals in just four months.
"I love working with mission-based organizations because what they do is very clear and precise — and that makes my job much, much easier," says Craig Dobie, a founding Creative Director of Applied.
Pace yourself
Limited resources don't need to stand in the way of a successful rebranding. In part, that's because the process does not have to be completed all at once. Instead, it can be phased to accommodate your organization's constraints — financial and otherwise.
The Conservancy, for example, knew that it lacked the budget and capacity to totally rebrand itself in one fell swoop. It divided the process into stages, beginning with a new logo, eye-catching park banners and a thoroughly redesigned end-of-year campaign letter. Over time, the organization will distribute new uniforms to its field staff and introduce a second batch of banners that will help further reposition the organization.
Despite that staggered rollout, the nonprofit has already begun to reap the benefits of its investment: The first year-end campaign to rely on the new, rebranded materials generated a 24% increase in the number of donors and a 30% increase in dollars raised.
"The more we grow, the more we do," says Garodnick. "And with our new brand and positioning, we'll be able to do even more great things."
Photos courtesy of Riverside Park Conservancy
The views and opinions expressed in this article do not necessarily represent the views and opinions of First Republic Bank.