Community hospitals are an essential part of the American healthcare system, providing access to quality care to millions of people nationwide. First Republic client Newton-Wellesley Hospital, a member of Mass General Brigham Healthcare System, is a community hospital in the greater Boston area, providing its patients with the expertise of a major medical center combined with the personalized care of a community-based institution. 
In 2017, the hospital started the The Newton-Wellesley Collaborative for Healthy Families and Communities (now referred to as NWH Community Collaborative), an initiative created to expand on services provided by the hospital, bring resources directly to communities in need, and lift up voices of community leaders to improve access to quality healthcare. The Collaborative serves residents of six towns in the Metro-Boston area: Natick, Needham, Newton, Waltham, Wellesley, and Weston.
First Republic spoke with Lauren Lele, Senior Director of Community Health and Volunteer Services at Newton-Wellesley Hospital, about how the Collaborative was formed, how they adapted their programs to serve families in need during COVID-19 and how the program has helped strengthen the hospital's community ties.
Top photo by Newton-Wellesley Hospital
How the Collaborative Works
With the aim of addressing public health holistically, the hospital conducts tri-annual needs assessments and looks at social determinants of health in the areas in which it operates. These are the factors outside of biology that impact health – such as socioeconomic status, education level, immigration status, race, and gender. The Collaborative then developed eight focus areas:
Cardiovascular Health
Domestic and Sexual Abuse
Elder Care 
Maternity Services
Resilience Council (youth mental health) 
Substance Use
Workforce Development
Palliative Care
For each focus area, a hospital champion and a community leader co-chair a leadership council, which also includes hospital staff, community members, and public health partners. Council members are ambassadors for the Collaborative's programs, perform community outreach and education, help measure program impact and encourage philanthropy to fund the work of the Collaborative.
"What's unique in this structure is how much the leaders are able to collaborate to create what we offer," Lele said. "The hospital champions' role is to figure out what kinds of programs and services make sense for the hospital, but we have success because the voice of the community is involved." 
Continuing Care During COVID-19
Since the Collaborative began, the context for community healthcare has changed drastically. The COVID-19 pandemic not only created a new public health emergency – it also exacerbated existing issues that contribute to health problems, such as isolation, substance misuse, domestic violence and mental health challenges. It also changed the way many people accessed care, from in-person doctor visits and community events to telehealth appointments and virtual meetings.
Because the Collaborative was already established and deeply rooted in the community, the Councils were able to quickly pivot – and even expand – their programming to meet these new challenges. For example, they provided much-needed support around:
Alleviating loneliness in elderly populations
Loneliness is a proven risk factor for many health issues among older adults – and isolation became an even bigger concern for people living alone during the pandemic. Before 2020, the Elder Care Council offered educational programming and social gatherings for older adults. In early 2020, they successfully shifted to meeting virtually and are growing partnerships with senior centers and housing facilities to reach more older adults in need of connection. 
Addressing mental health challenges facing young people
The Resilience Council, which includes child and adolescent mental health services, was well-equipped to help parents and educators through this difficult time. Members of the hospital's child psychiatry department were already partnering with area middle schools and high schools, and ramped up services to provide mental health training for school staff and administrators, as well as resilience workshops for parents. This partnership serves roughly 18,000 children and teens.
Supporting mothers experiencing postpartum depression 
Postpartum depression impacts a high percentage of new mothers – and during the pandemic, many new mothers reported feeling increased levels of depression and anxiety. The Maternity Council, which was already running a weekly new mothers group led by a nurse and midwife, switched to meeting twice a week virtually. At this time the maternity social worker who specializes in postpartum depression addressed an increased need about maternal patients. This level of care has made a big difference for people navigating the stresses of new parenthood and COVID-19.
While the pandemic has been challenging, it has also provided the Collaborative an opportunity to deepen community connections and be more responsive to the evolving needs of people seeking care at different stages of life, according to Lele. "The Collaborative provides us with a special opportunity to show people that the hospital is not just a building you come to in a crisis," she said. "We are with you during whatever you are experiencing in life, and we can meet you where you are, close to home." 
Finding Unique Opportunities for Growth
In addition to adapting their programs to respond to COVID-19, the Collaborative has continued its outreach on other important programs – and even added new offerings. These include: 
Providing career opportunities to young people
The hospital is not only a place for patients – it is a major career hub for the area. The Workforce Development Council runs an internship program to introduce young people to the many careers at the hospital, from clinical and administrative roles to environmental services and transport. The internships are paid, which provides young people from low-income families the same opportunities to explore a career path as students with more means. Now in its fifth year, the internship program sets students up for success and benefits the hospital too – they have hired four former interns into full-time positions.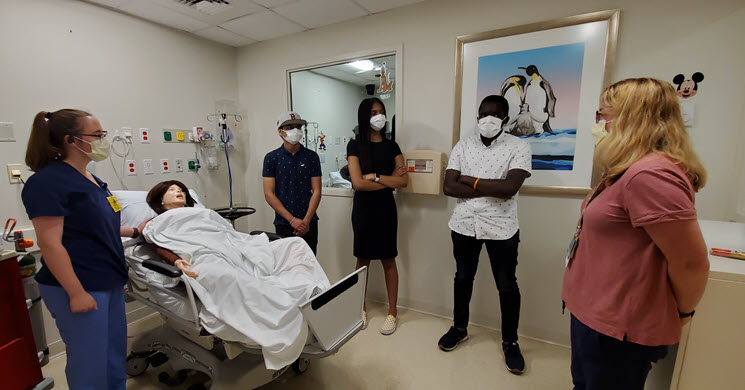 Photo caption: NWH summer interns taking part in a medical simulation program. Photo Credit: Newton-Wellesley Hospital
Piloting a cardiovascular health program for firefighters
Firefighters are at increased risk for cardiac arrest and coronary heart disease. To help prevent heart attacks and other serious issues, the Cardiovascular Council recently began a pilot program that provides firefighters with education and training on ways to boost heart health. Though the program is still in its early stages, this new partnership shows the success of the Collaborative's model, as community leaders and medical experts are partnering to find new ways to address the needs of a key population.
Through an innovative joint effort between hospital leaders and community members, the Collaborative has been able to address gaps in services, continue serving vulnerable populations through a uniquely challenging time, and build lasting ties within their community.
Looking to the future, "the efforts of the Collaborative can take many different directions," Lele said. "Community is one the key pillars of our organization plan at the hospital, and we are very excited about it – there's so much opportunity."
First Republic proudly partners with hundreds of nonprofits like Newton-Wellesley Hospital that are making a difference in their communities. If your nonprofit is looking for a trusted banking partner to help you reach your financial goals while accomplishing your mission, please contact us.