Women in the arts have come a long way, but they still face enormous obstacles. Female artists struggle to gain traction and influence in an environment in which audiences and investors consistently undervalue their work. Gender parity in the arts is still a seemingly distant dream.
That's why Pen+Brush, a New York-based nonprofit organization, has spent over a century advocating for and raising up female artists. This year, Pen+Brush celebrates 125 years of ensuring female artists and writers receive the recognition — and compensation — they deserve.
To mark the occasion, we sat down with Executive Director Janice Sands and Associate Executive Director Dawn Delikat to learn how Pen+Brush continues to challenge the status quo in the arts world.
---
Being firm with prices is a subtle education for potential buyers. It shows we give fair value.
---
How are you championing women's art and literature today?
Dawn Delikat: We accept work from women all over the world. The goal is to provide an open door for their craft. It's about making space for women of different races and binaries, who are often overlooked. Our curators travel the world, with their radars turned on high.
It's hard to form a collector base, so that's what we do. We can help a new artist coming out of an MFA program to show her work. To launch someone, though, the work must be high quality. Over the last four years we've received approximately 3,000 submissions and accepted 250. It's an accomplishment for any artist to exhibit in New York, so being able to provide that access is amazing.
We also publish a journal twice a year to grow women's diverse voices. Many books by women are not reviewed; without them, authors can't become the next great novelists. In our journal, women aren't judged or excluded for being too emotional or for mentioning children.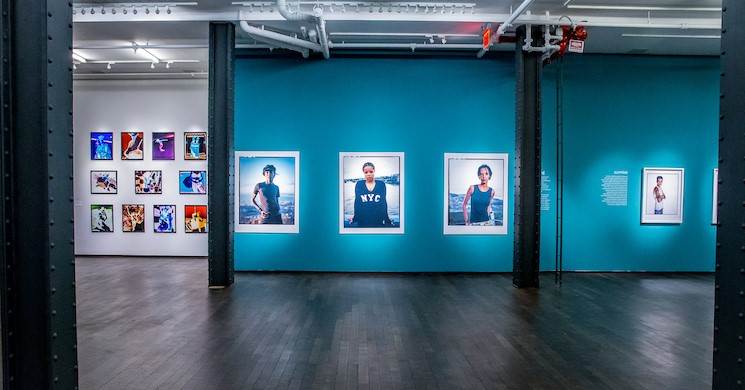 Why do you think your organization has thrived for so long?
DD: Ferocity, and an "if not me, who? and if not now, when?" approach.
It's our history. In 1894, two sisters who were artists started Pen+Brush so they could make their own way in this rarified field. It soon attracted famous women who became members, such as Eleanor Roosevelt and Pearl S. Buck.
Janice Sands: It's definitely taken a great deal of governance and perseverance, too. We know that parity for women in the arts can very well take another 125 years. Our eyes are always on the prize.
Has the mission changed over the years?
JS: Absolutely not. Pen+Brush has always been a supportive place to talk and work. There was an epiphany among those who came together to start the organization. They were grasping for opportunities, so they knew women artists and writers needed a platform.
Patrons, too, believed in those women. That mix and mission sustained Pen+Brush from World War I onward. After World War II, when women showed what they could do professionally, they didn't go back into the home; they became involved in the civil rights movement. By then there was an older guard at Pen+Brush, women in their 60s and 70s, who were guiding younger members.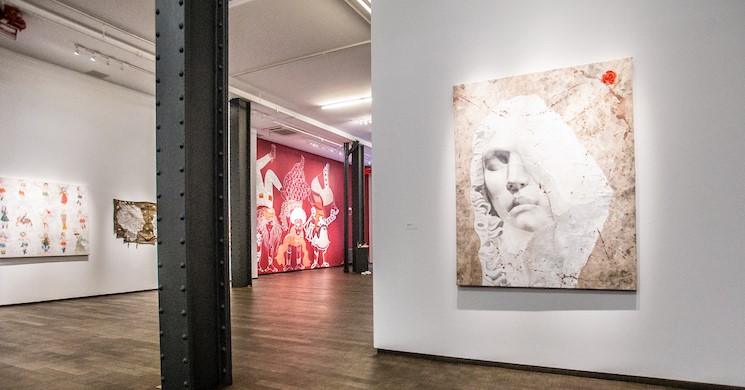 What specific challenges do women artists face?
JS: The humanities isn't always perceived as important as other academic fields. It's a reflection of what society values. But it's also difficult to establish what's called "professional." Many artists have been painting or sculpting for years, but haven't been participants in the larger art market. That's a handicap. It's a miracle if they can get into a major auction house while they're alive. We try to at least give them fair value, which is a daunting task.
There is also the issue surrounding home life and taking time off to raise children. It's devastating to repair the damage that not working over a prolonged period can cause. It greatly impacts opportunity. At Pen+Brush, however, we've had women who maintained active careers throughout their child-rearing years.
Can you tell us about one of the artists you helped overcome marginalization to become successful?
DD: Just one example is Lola Flash. When we saw her photography, we knew we had to come up with the resources to highlight her work. We started with proper evaluating and pricing; then we exhibited her work. We were able to garner traction with press and collectors.  In fact, The Lily and Earle M. Pilgrim Art Foundation purchased a piece they then bequested to the Brooklyn Museum's Photography Collection.
Since then, Smithsonian Magazine has given her a full photography exposé; she's had work on view at the Ford Foundation, a solo show in London, and continues to be invited to travel for paid artist panel discussions and speaking engagements.
Pen+Brush's exhibition signage is gender neutral. Is there a reason?
JS: It's a subversive tactic. We want the work to come first. People press their noses against the window, then come in without prejudice. None of the art is readily identifiable as being made by females. Only when they ask for the price list do they realize that all of it is done by women.
This experience is powerful. When we see their expressions after learning that everything -- from the visual arts to what's in the journals -- is done by women, it's meaningful to us.
How has your investment in real estate been key to Pen+Brush's longevity?
JS: In 1963 Pen+Brush paid off the mortgage on the original building. If you look in the archives you'd never feel confident that we could do that. Although we always had patrons, our members often didn't even have the money to pay their dues. To go from that point to gaining full ownership of a five-story brownstone in New York is incredible!
When we decided to sell our original home, we were faced with the decision of what to do with the proceeds. Renting a new space was considered, but I was vehemently opposed. Pen+Brush should always have a permanent home. It conveys stability and trust.
In 2014 we bought a new space in the Flatiron District. The location is wonderful because the gallery is visible from the street, and being in an area where there is culture and interest in the arts is important. Moreover, it's a liquid asset that proves the organization is safe and protected.
You don't offer discounts but do give artists a high percentage of the proceeds. How does that work?
JS: We're not a commercial gallery, so no one is here to get rich. The artists do well, though, because we give them 75 percent of the sale, which is much higher than the industry standard. We advocate for the artists.
Being firm with prices is also a subtle education for potential buyers. It shows we give fair value, which is based on an already discounted portion of the marketplace. Once we talk to people, they get it. We're transparent so they understand our motivation.
Any future plans to share?
JS: The Frick Museum approached us after the movie The Monuments Men came out, asking us about adding our work to the registry. Since then, we've begun to create a registry of our own, for both artists and writers. Aside from establishing price points, it provides provenance, a living history that will be maintained long after we're gone. Virtually everything women did in the past is missing, so it's imperative we take this on.
We're looking forward to ensuring Pen+Brush thrives, advancing female artists for another 125 years and beyond.
[Image credit: Pen+Brush, Installation View]