Cities like New York are constantly changing, and that's part of what makes them so exciting. But in a constantly evolving landscape, it can be hard for people to find community and a sense of belonging.
When artist Kelsey Montague moved to New York City to be near her sister (and now business partner) Courtney, she built a community through her creativity. Kelsey – who creates large-scale murals in cities around the world – got her start by drawing in coffee shops, and sharing her work with those around her.
"What I didn't think about drawing in a public place, like a coffee shop, was that it naturally engaged my local community. Some of the locals started knowing me and loving what I was drawing," says Kelsey.
Kelsey has kept a community focus going ever since, especially with her latest mural.
Pictured here, and commissioned by First Republic, the artwork is a celebration of New York City that's viewable from the High Line park in New York's Chelsea neighborhood. The piece is the latest of several art murals for the five story wall that have been commissioned by First Republic as part of our larger commitment to supporting artists in the communities we serve.
---
I always wanted to do things that make people happy, and I think people consistently underestimate positivity.
---
Inspiring positivity to 'be a little bit more'
The iconic wings and feathers in her #WhatLiftsYou series, which is widely shared on social media, inspire people to fly (and elevate others along the way). Other murals give people the chance to surf a wave in Atlantic City, take a hot air balloon ride at an East Nashville installation, and much more.
We interviewed Kelsey about how her art brings out people's creativity, and inspires them to share it.
Did you always want to be an artist? What were some early influences on your creativity?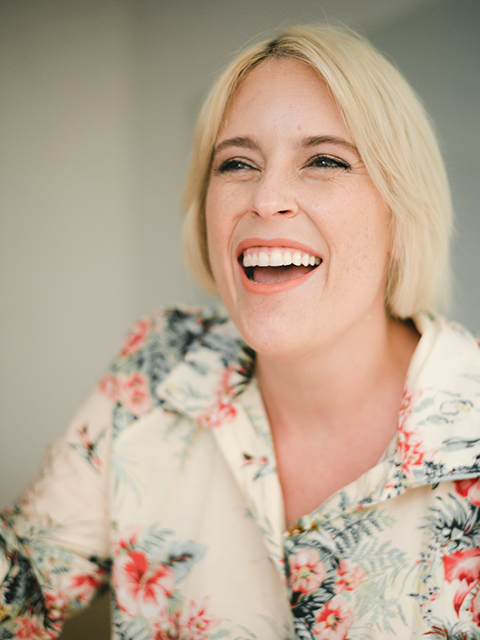 I grew up in a family of artists on my mom's side, so I was always in and out of art studios. My grandfather used to hide a bird in all of his paintings – he had a beautiful studio and was an art professor – and my sister and I would find the wings in every one. My mom was a watercolorist who also loved painting birds, and my uncle's a sign maker. This whole side of the family is very, very creative, so it's always just something I gravitated towards because I loved it.
Then I studied art in Florence, and finished in London. I had some art professors that really changed my life. When I graduated I ended up in New York City… I knew I wanted to do something creative, but art was just something that I did for myself, as a passion project. And then through that [coffee-shop] community I was invited to do a rotating art wall, and I said 'yes, of course, why not?'
Your #WhatLiftsYou works have a huge presence on social media. How did that start?
Well, when we got our first big mural [at Kenmare and Mott in NYC] we had no idea what we were doing. We confirmed the wall, and I drew a huge pair of wings – I didn't even realize the whole connection with wings to my family until a bit later. I just did it because I love wings!
At the time I was building a small community on Instagram. It was important to me to keep doing that, and to do something positive with my work. Hashtagging 'what lifts you' just made the most sense, because I personally really wanted to see what people were going to do in their photos, and there's no other way for me to do that!
New York is my second home, but I wasn't sure New York was going to like it.  I didn't know if people were going to want to share something as personal as what lifts them, but right away, it was amazing. It just took on its own life.
Why is it important to you to do something positive with your work?
I always wanted to do things that make people happy, and I think people consistently underestimate positivity. Life can be tough and chaotic.
What I see every day with #WhatLiftsYou is that people need a moment to reflect on what is truly important to them. They also need that opportunity to share something positive about themselves with the world. To be a little bit more. I'm giving people that opportunity. And the fun of interactive art is that people are so creative!
When you're drawing these pieces, how do you think about bringing out people's creativity?
When I'm drawing a sketch I love to research… There are always images hidden in my pieces. I think it's great to just draw something, but if I can tell another story then I'm going to do it. There's a large message and then there are even smaller messages, so there's an experience you can see in a photo, and there's also an experience you can see in person.
And I really do love communities. Everything is hand-drawn – I could draw all day, on anything and everything, but for me it always comes down to the people I'm drawing for. How can someone walk into this? How can they know it's for them? How can I make it easy for them to take a moment for themselves? I always want my work to be a gift, and that's what drives me - giving back and doing something for other people.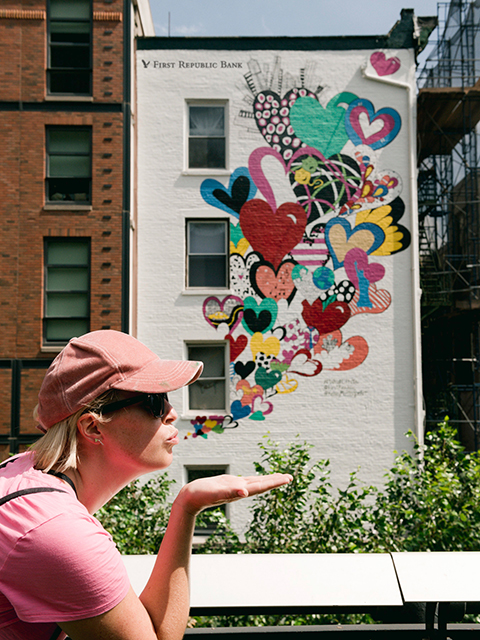 You've created partnerships to bring some of the murals to life. How do you work with companies to bring your ideas to life?
After that first mural was filled with images because that's just what I did, it opened a door for us to create a business to work with brands organically.
It's still kind of a new thing, so some people in a company will understand it better than others. The whole idea of making it interactive for social media and working with the brand organically while also reaching the community is really about hitting that sweet spot.
It can be a challenge, but when it happens it's just magic. Like First Republic, for example. It's amazing that they have such a great wall, and wanted to celebrate New York so much [with the images in the piece]. They knew I had lived in the city and I said, "Let's represent the artists and the theater and the fashion and diversity," and they were really great with that.
As your success grows, does New York still inspire you personally?
Yes. [Courtney and I] had a few failed businesses before this, which has made this amazing because you're so ready for it and you work that much harder when you have any type of success. We don't take anything for granted, and we work seven days a week! New York is the city where I really found my voice and got strong.
There's so many great cities in the U.S., and in New York, the creativity is just insane. There's a grit and a drive here that I love. It's also a city that loves self-expression, that values confidence, and kindness. If I have any kind of crazy idea, my first instinct is to bring it to New York.
Given the number of murals you created over the years, do you have a favorite piece?
That first one is always going to be my favorite. I care about all the murals in different ways, but that first one was life changing. Taylor [Swift] stood with it a week after it was painted, and so did a few other celebrities in that area.
The whole buzz grew… and that's when I realized the potential of interactive street art, and decided That's what I want to be known for, that's what I want to pioneer. It was like finding your calling as a creative, finding your medium and your art form, and it was really life changing.
What are you most excited about, moving forward?
I think street art in general, it's just amazing what people are doing and how they're building businesses to create, to work with brands to make a living and also share stuff with both communities. I love watching and supporting it because now I get to add my voice as well.
And the mural ideas I have are all interactive, and the more I build them out the more I can push boundaries – I like the whole idea of creating art that's integrated into spaces, like on a rooftop or a ship. I have so many ideas, and it would be great to work with other creatives – to get both artists and musicians to collaborate on different projects.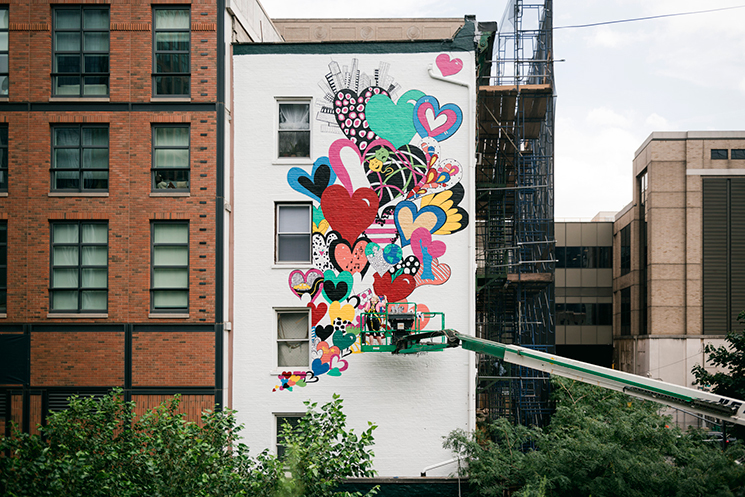 To interact with the piece take the stairs up to The High Line near 30th & 10th, take a left once you reach the top, walk down a bit, and you'll see the mural on the left. Share photos with #WhatLiftsYou @firstrepublic @kelseymontagueart
The views of the interviewee of this article do not necessarily represent the views of First Republic Bank. This information is governed by our Terms and Conditions of Use.