There's no magic formula to becoming more financially stable, and graduates who carry student loan debt often feel as though they're pushing a boulder up a hill when trying to get a handle on their finances. To help alleviate the burden, many turn to student loan refinancing. While you may lose special student loan benefits like forbearance and income-based repayment, refinancing student loans could save you money in the long term.
These tips can help you know what to look for in a student loan refinance and select the best student loan refinance company based on your specific needs.
1. Make sure the time is right for a refinance.
Every borrower has a unique financial situation, but if more than one of the following situations rings true for you, you could be a great candidate for refinancing your student loans:
You have excellent credit.
Demonstrating responsible credit management with a FICO score of 750 or above puts you in a better position to qualify for refinancing. It's also essential that your current student loans are in good standing and not in deferment or forbearance. Lenders often use credit history as an indicator of a dependable borrower, which could help make you a better candidate for refinancing your student loans.
You have a strong salary.
A robust, consistent income is a good signal of your ability to make on-time loan payments, especially when you have significant debt to repay. For most refinancing applications, you'll need to submit a copy of last year's tax return and a recent pay stub. If you are self-employed or have other sources of income, you may need to provide additional documents.
You have some money saved up.
Showing an ability and willingness to save money is a good way to demonstrate responsible money management. Particularly important is showing evidence of short-term savings with enough liquidity for life's unexpected expenses. Some lenders may ask to see a current checking or savings account balance before extending credit. Prepare for refinancing by building a small nest egg — it will also help you practice establishing a healthy financial future.
You have high interest rates on your student loans.
Many professionals who completed graduate school in the last decade took out student loans at rates above six percent. If this is true for you, you have something to gain by potentially lowering your interest rate. And with the Federal Reserve's decision to change interest rates several times since 2016, time is of the essence.
Finally, you don't plan on using the features of your current loans.
Choosing to refinance means you're likely to lose some features associated with your existing student loans. But if you don't expect to take advantage of deferment options, income-based repayment or forgiveness provisions, you might not miss having them.
If the above situations ring true for you, refinancing your student loans could be a good fit. Of course, it's always recommended that applicants contact their legal and financial advisors for assistance in deciding whether a particular product is right for them.
2. Look for shorter terms and lower rates.
You may have spent upwards of 10 years working hard for your degrees. Why should it take longer to pay for them? One of the most effective strategies to pay off your student loans faster and save money on your overall loan repayments is to refinance to a shorter loan term at the lowest possible interest rate. Below are two pay-down scenarios that demonstrate the impact of refinancing at a lower interest rate.
1. Refinancing to a 5-Year Loan

 

First Republic1

Other Lender3

Loan Amount

$147,000

$147,000

Term

5 years

5 years

APR

1.95%2

3.15%

Monthly Payment

$2,573

$2,651

Total Interest Savings

$4,670

 
In this hypothetical example, you want to refinance $147,000 in student loan debt and are comparing two lenders. One lender offers a 5-year loan at 1.95% APR and another lender offers the same loan at 3.15% APR. Simply by selecting the first lender, you will save almost $4,700 on your loan repayments. That's real money you can put toward a down payment on a home, a new car or growing your savings.
2. Refinancing to a 10-Year Loan

 

First Republic1

Other Lender3

Loan Amount

$147,000

$147,000

Term

10 years

10 years

APR

2.70%2

3.99%

Monthly Payment

$1,399

$1,488

Total Interest Savings

$10,611

 
In the second example, refinancing $147,000 to a 10-year loan at 2.70% APR versus 3.99% APR saves you a whopping $10,611 over the life of the loan. It's easy to see how securing the lowest interest rate will provide significant savings as you pay back your student loans.
See your rate in 60 seconds with our easy student loan refinance calculator.
3. Factor in your future goals.
The success you've achieved to date is just the start of what lies ahead. In addition to refinancing your student loans, our team of bankers can connect you with a wealth manager who will help accelerate your overall financial growth. What are your life goals? Do you want to start a family? Do you want to retire by 45? Are you looking to take more vacations? These are the kinds of questions your First Republic banker will ask to help set you up for financial success. Whether you're saving for retirement in an IRA, looking for more stable investments like CDs, opening a new practice or firm, or are ready for full private wealth management, having a financial partner will help you achieve your goals.
4. Research your student loan refinance lender.
Reputation matters, and you want to feel good about your lender. A quick Google News search can provide insight into recent events and noteworthy incidents regarding the organization. However, to understand how a company is perceived by its clients, the Net Promoter Score (NPS) provides a measure of customer experience and loyalty. The score ranges from -100 to +100; anything above 0 is considered good, above 50 is excellent and above 70 is world-class. Here's how some of 2017's top service-focused brands were ranked as a measure of NPS: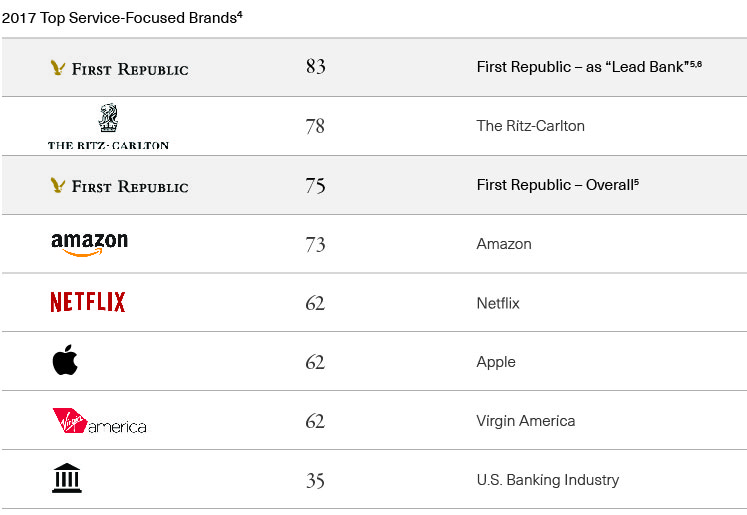 5. Choose a student loan refinance company with a proven track record.
Stability of a student loan refinance company matters more than ever in today's economic environment. You want to believe that your loan isn't going to be sold to another provider in a couple of years, moving your relationship to some other new bank. Having a lender with decades of consistent, positive performance gives you confidence it can weather any tough economic times. It also provides insight into its leadership's focus on longevity.
You've worked hard to get where you are and deserve a partner whose mission is to help you succeed.
When you're ready to accelerate your financial growth, we're here to help with student loan refinancing and beyond.