Nonprofits do a tremendous amount of good in this country. But what if an organization could multiply its impact by using its investment capital to further its mission as well? Are nonprofits using their capital in an optimal way?
An experienced wealth manager will prompt a nonprofit to consider whether its organization is utilizing the best investment vehicles to further its financial goals as well as its social mission. Relatively few nonprofits have begun to explore the multitude of sustainable and responsible investing options available to them.
As charitable organizations, nonprofits and their boards first and foremost may feel they have a fiduciary responsibility to use the funds from their donors. Many nonprofits have liquid cash flow for their annual budgets, an emergency fund and long-term investments. Below are some considerations for nonprofits seeking to align their investment strategy with their mission and to explore options with their board members.
Sustainable and responsible investing
Pivoting from an investment strategy that looks only at the bottom line means embracing one that incorporates important details about the companies it owns. Traditionally known as "SRI" or "socially responsible investing," this strategy is now called "sustainable and responsible investing." SRI essentially describes any investment strategy that integrates ethical values into an organization's portfolio. Rooted in early 20th-century religious organizations, SRI historically aimed to avoid industries that challenge an organization's ethics, such as tobacco and alcohol.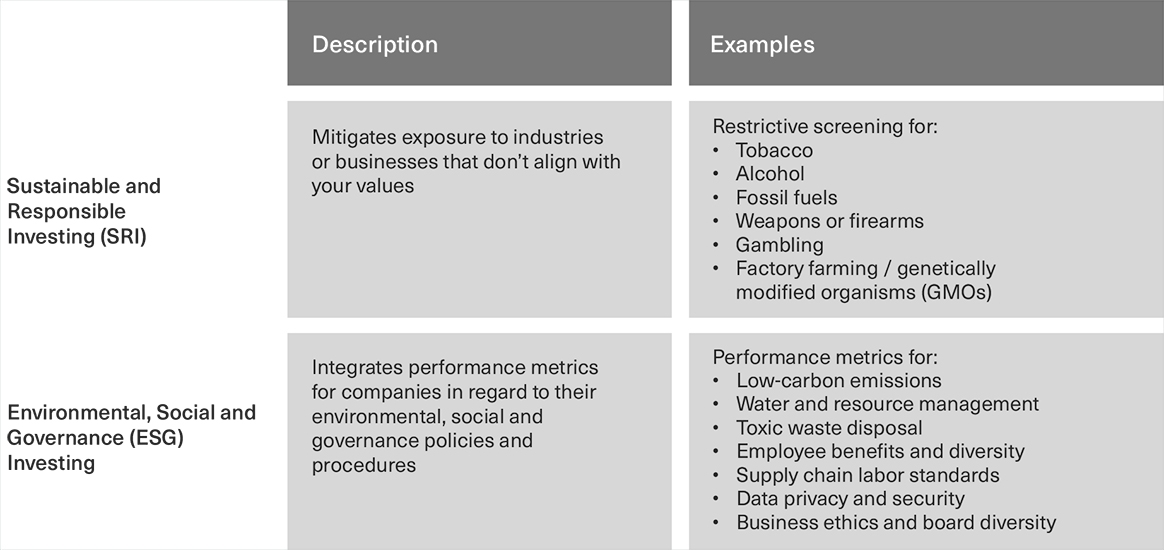 For example, if you are an environmental or conservation organization, does your portfolio contain fossil fuel companies, and, if so, is that hurting or helping your financial performance as well as your broader social mission? If you are a school concerned with student safety, does your stock portfolio contain weapon retailers or manufacturers? These are important questions every organization might be asking about how their capital is invested.
Another approach to ethical investing that may better suit organizations is called "ESG" or "environmental, social and governance" investing. In this type of investing, certain company performance indicators are evaluated to identify higher-quality management teams that are considering environmental and social risks (see chart above). These companies often have more thoughtful long-term business plans that eliminate certain ESG risks that will translate to a company's bottom line.
Evaluating investment strategies
Board finance committees might ask if their nonprofit's investment strategy meets the organization's financial and social objectives. Nonprofits wondering how to shift to ESG or SRI should consider starting with the following steps:
Confirm the organization's current risk tolerance, financial goals and asset allocation (for example, what percentage of investments needs to be in stocks versus bonds?)
Identify key ethical values for investing and understand SRI and ESG options for implementing those values (are any current investments in direct opposition to its organization's mission?)
Ask, "What is our optimal portfolio for both financial and social return? Are we doing that or moving in that direction?"
A nonprofit's financial advisor should help board members think through the organization's size, assets and ability to absorb risk to avoid an SRI- or ESG-centered plan that ignores the full financial picture. For example, a board we work with wanted a uniformly low-risk portfolio. The board members had heard about ESG stock strategies from another advisor, but that recommendation didn't meet their risk tolerance and financial objectives. While crafting an SRI or ESG investment strategy that is low risk is somewhat challenging, a socially responsible low-risk portfolio with positive return potential is entirely possible. The board was extremely pleased that we were able to provide a solution that met the organization's financial and social objectives.
The truth about performance
In fact, the myth that socially responsible investments underperform has now been debunked. A 2015 meta-study done by the University of Oxford evaluated over 200 underlying studies tying sustainability practice to performance. Findings were impressive: "80% of the reviewed studies demonstrate that prudent sustainability practices have a positive influence on investment performance." (Footnote 1) Thus, there is evidence that socially responsible investment strategies are as capable of meeting, if not beating, their benchmarks as their non–socially responsible peers.
For example, utility companies that are transitioning from costly coal production in the United States are outperforming those with little exposure to renewables or lower-carbon energy assets. By the same token, one of the social factors looked at for evaluating a corporation's performance is how it treats its workers and workplace safety. Companies whose employees feel safe, taken care of and heard boast higher productivity rates and, in turn, greater profits. "We find the best ranked ESG companies outperform poor or mediocre ranked companies," according to a 2013 paper by Deutsche Bank. (Footnote 2) This study concluded that higher ranking ESG scores can be a potential source of alpha-generation, or returns over a benchmark, in investment portfolios.
Even as they keep an eye on returns, some nonprofits avoid certain sectors altogether. A church whose portfolio we manage felt very strongly about excluding all healthcare sector companies from its portfolio. A strategy like that won't necessarily under- or outperform over the long term, but if the healthcare sector does very poorly, this organization's strategy does better. If healthcare outperforms over a certain period of time, then the church's portfolio would do worse. After evaluating the potential benefits and costs, the client understood and accepted that its portfolio's performance would diverge from the benchmark from time to time. Ultimately, it was more important for the church to not support certain pharmaceutical companies; this strategy helped the client feel confident about the impact of its investment capital in the world.
That selectivity shows how investing intentionally can multiply a nonprofit's impact. SRI and ESG help nonprofits unlock a new opportunity to effect change by supporting companies with an eye on social responsibility. The cycle continues when potential donors catch wind of a nonprofit's SRI or ESG portfolio: They're more likely to contribute by giving the organization more capital to invest, therefore broadening its reach.
Looking to the future
A growing number of nonprofits have chosen the socially responsible investment path over the past 10 years. Asset growth in SRI strategies in general is on the rise and is now $12 trillion, according to US SIF (The Forum for Sustainable and Responsible Investing). This represents 26%, or about one in four dollars, of total U.S. assets under professional management. Essentially every major mutual fund and index company has now designed a suite of ESG or SRI products.
As sustainable and responsible investing becomes more mainstream, nonprofits have more opportunities to align their portfolio with their financial and social objectives. First Republic can partner with nonprofits to develop an investment strategy tailored to their mission and unique goals.
For more information on SRI investing, contact nonprofit@firstrepublic.com.
From the Stockholder to the Stakeholder: How Sustainability Can Drive Financial Outperformance, University of Oxford and Arabesque Asset Management, March 2015


https://papers.ssrn.com/sol3/papers.cfm?abstract_id=2508281

https://yoursri.com/news/arabesque-partners-and-oxford-university-update-sustainability-meta-study

The Socially Responsible Quant, Signal Processing, Deutsche Bank Markets Research, April 24 2013